Meet the teacher
Way back in 2008, I had a number of students who were not completely satisfied with the breadth of learning available to them within the limitations of the classroom and what we could offer resource wise. With the enthusiasm that they were showing to learn more and to gain more experiences, I started to research what activities we could use beyond the classroom. This began as a lunchtime playing with old radio controlled cars and bits of Lego robotics kits but soon developed into a full time club looking for new and exciting activities to take part in. Competition has always been a strong motivating factor and so we naturally gravitated towards the experiences that had the added edge of taking on other schools!
We have been involved in a range of STEM outreach experiences featured on Neon – for example the VEX Robotics Competition, the IET Faraday Challenge Day and the EEP Robotics Challenge.
The majority of students who join us in our experiences usually begin their journey as fairly quiet and reserved students. Often those that don't put themselves forward or lack the confidence to volunteer in the classroom find themselves mixed in with our more experienced students who have already discovered the joy of participating in STEM. There are no boundaries or limitations to who can sign up and so each student will have a unique opportunity to see how others have gained confidence and to begin their own journey. Whether they join in year 7 or year 12, every student finds a place where they can express their opinions and work on projects with likeminded individuals. The journey is about building their inner confidence and allowing them to forge their own STEM pathway. We simply facilitate the opportunity and let them use it how they wish.
We've had lots of positive feedback from students taking part. They agree that they are encouraged to be dependable, honest, hardworking, friendly, creative, intelligent, caring and inspiring, as well as taking responsibility, show respect and be inclusive. All these attributes have contributed to our success, encourages new members to the school and helps us to build our community with our local STEM day.
Related experiences
Online
EEP Robotics Challenge
Teams can build, program and control their LEGO® robots and present an engineering-focused environmentally-themed research project via online sessions and competition. 
Ages 11 to 14
In-school
Multi-session
Free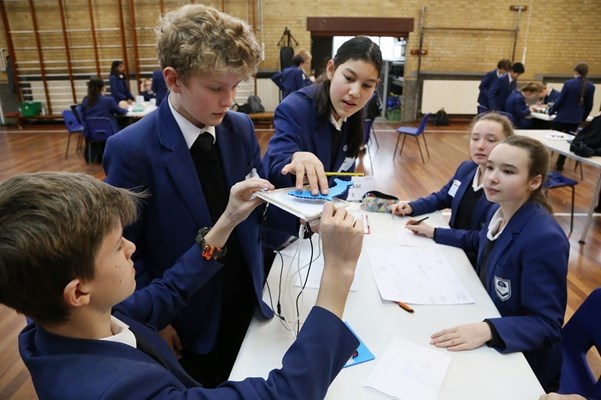 Competition
IET Faraday Challenge Day
Give students the opportunity to research, design and make prototype solutions to real engineering problems.
Ages 12 to 13
In-school
Full day
Free
Event
The Big Bang UK Fair
The Big Bang Fair is the largest celebration of STEM for young people in the UK!
Ages 7 to 19
Offsite - Birmingham NEC
Full day
Free