A big fan of wind energy!
Conor Lewis is a mechanical engineer working for Ørsted on an off-shore windfarm in Cumbria. Often at the very top!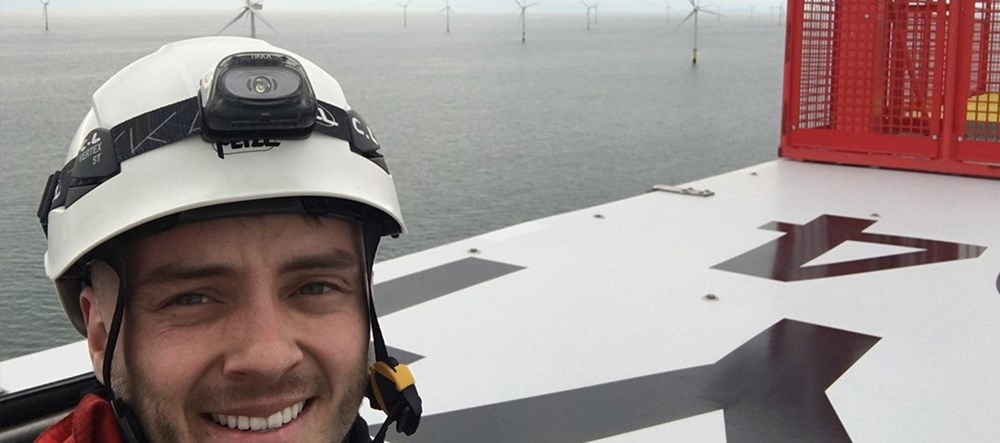 Name:  Conor Lewis
Age: 24
Where do you live? Barrow-in-Furness, Cumbria
Job title: Wind turbine technician – lead technician
Qualifications: NVQ Level 2 & 3 Mechanical Engineering. I'm a safety rep at work so I have an IOSH H&S qualification and I am currently studying for a NEBOSH H&S qualification
Tell us about the company you work for, Ørsted:
Ørsted is the global leader in offshore wind. It was formed around ten years ago and is headquartered in Denmark although the UK is a key market for us. We have eight operational windfarms in the UK, a further four under construction and with more in the pipeline Ørsted, and the offshore wind industry, is growing rapidly.
What do you do in your job as a Wind Turbine Technician?
My primary role is the service and maintenance of our offshore wind turbines at Walney Offshore Windfarm. This includes inspections, scheduled maintenance and troubleshooting any small faults that come up and fixing them. I lead a small team and together we perform a range of manual tasks to ensure that the wind turbines are working reliably and at maximum efficiency. Because we're out at sea and sometimes in challenging weather conditions, ensuring it's done safely is probably the biggest part of my job. 
How does your work affect the production of renewable wave energy?
Just like a car, wind turbines need servicing every year. There are 102 turbines at Walney 1 + 2, which need to be in good order to be able to produce enough energy for 250,000 homes, so I feel our role is vital in the production of renewable wind as we ensure everything is working correctly and efficiently.
How does it feel to work in an industry that's important to the future of the planet?
It feels good to work in the offshore wind industry as it has a somewhat moral feel to it. To know that the work I do contributes to our country emitting less carbon is quite humbling. The industry is growing rapidly so I feel like I'm part of something big which is moving forward and benefitting society without harming the planet.
Ørsted operates three offshore wind farms off the Barrow coast with another under construction, why is Barrow a good place to generate wind energy?
Lots of factors go into where is a good place to build a wind farm. You need shallow waters and good sea bed for foundations, and of course lots of wind. I've lived here all my life and can safely say it's a very windy place!  When Ørsted first began construction in Barrow over ten years ago there wasn't much infrastructure to support the offshore wind industry here, but thanks to significant investment from Ørsted and other companies the Barrow area now has great capabilities for offshore wind. The supply chain has also diversified so it's capable of supplying green energy as well as nuclear!
Could you describe an average day?
A typical day starts with a brief from a supervisor where they'll tell us what the work is for the day. It's an early start, normally around 6am, to give us time to sail out to the windfarm, do what we need and then get back again. Normally I'll have some idea of what needs doing from the day before, but this is a chance for us to go into more detail and be given specific tasks and particular safety talks or things to be aware of. We'll then get our tools and equipment together before getting on the boat. The journey takes about 1 – 1.5 hrs and can be a bit choppy in the winter! But you get used to it and actually it's a nice chance to have a bit of time to relax before getting to work on the turbine. When we arrive at the windfarm we transfer onto the transmission piece. This can be a bit scary on a bad weather day but you're always in control. They [Ørsted] wouldn't let you do it if it wasn't safe and there's no pressure if you don't feel comfortable. We then crane the gear off the boat, stop the turbine and get the lift up to the top. At 150m the view is impressive, nearly as tall as Blackpool Tower! We use the crane to transfer the equipment up, carry out the work, which could be a variety of things, and go back to shore the way we came.
Which "branch" of engineering do you work in?
My NVQ is in mechanical engineering, but as a wind turbine technician there tends to be more electrical than mechanical. I wouldn't call myself an electrician, but I know what I'm doing up there as I've had all the relevant training I need in-house.
What is it like working in Barrow?
I'm from Barrow originally so pretty lucky to have all this on my doorstep. Barrow has a good industrial background with the shipyard and so on, so there's no shortage of skills in the area. 
How did you find out about your job?
I first saw the job in a newspaper advert. I applied and came for an interview and was successful – this was three years ago now. I hadn't really heard of Ørsted before then but I'm glad I went for it as the job is really interesting – I never thought the view from the top of a 150m turbine would be a daily occurrence!   
What do you find most challenging about your job?
The most challenging part of my job is working under time constraints and making sure everything we do is done safely. Everyone is responsible for their own safe work but as I'm a team leader I have extra responsibility in making sure the rest of the team are working safely – this is really important to me. As we work out at sea we can also have quite challenging weather conditions – but we'd never go out in anything risky so the worst it gets is a bit bumpy on the boat!
What first got you interested in engineering?
From a young age I always liked getting hands-on and fixing stuff. I knew I'd have a good career ahead of me if I studied engineering and so far that's turned out to be true! There's plenty of scope for progression, after three years I'm already leading a team so I'm looking forward to the future.
What subjects did you study at school?
At school I studied Maths, English and Science GCSEs as well as a vocational course in engineering and motor vehicle cars. I then went on to college to do my NVQ2 in mechanical engineering and completed my NVQ3 at my previous employment at BAE Systems.
And how are these subjects important to what you do now?
I think the vocational courses I did are more related to what I'm doing now than Maths English and Science. I enjoyed them more and it turned out I was better at them. I think they should do more vocational courses at younger ages and give young people opportunities to learn things which will directly help them to get a job straight away, or go to college with a bit more knowledge.
What kind of personal qualities do you think are important for an engineer?
You need a good eye for detail – you can't cut corners in this job, and you spend a lot of time working with colleagues so it's important to be friendly. Generally speaking, engineers should be persistent, as sometimes you need to try different solutions, and they should be the sort of people that are always looking to do things more efficiently. Good communication is also extremely important, especially for my role where you're out at sea working on complex machinery.
Do you have any advice for someone wanting to get into a similar career?
Find something you're interested in and go for it. If you're not lucky enough to get a job, apprenticeships can be a great route or go to college and try and get an NVQ2. That's what I did and it definitely helped me when I went for my first job.
What do you enjoy doing in your spare time?
Keeping fit and spending time with my girlfriend and daughter.