A drop in the water
Lauren is a water engineer who makes sure the liquid we pour from our taps is clean and safe to drink.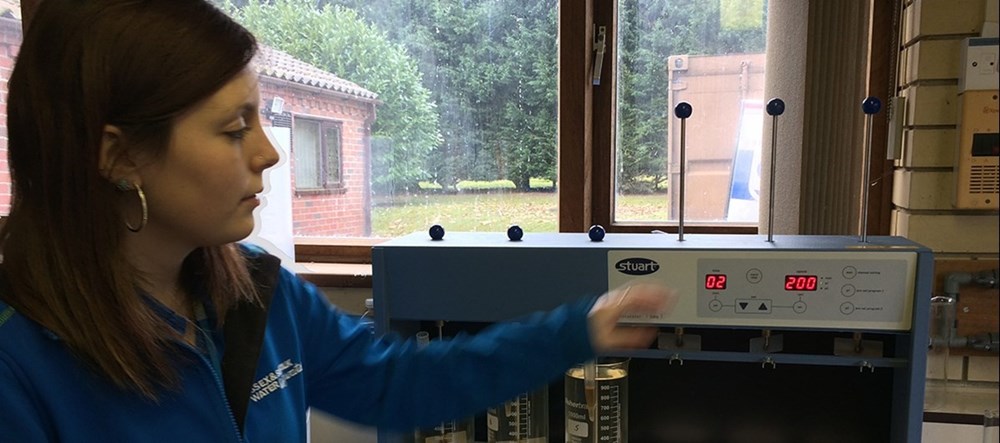 Name: Lauren Thompson
Age: 22
Job title: Process Technician
Qualifications: Level 3 Water Engineering Diploma, A Level Chemistry
Employer: Essex and Suffolk Water
Where you live: Laxfield, Suffolk
Tell us about your job. What do you do?
Being a Process Technician involves providing technical water treatment process support for any department associated with producing water. I work alongside these teams as well as the Water Quality department to ensure the best quality of water is supplied to our customers. This can involve on site lab testing, data analyzing, decision making, asset inspecting, problem solving and investigatory work.
What does an average day look like for you?
I start the day with checking up on the previous day's figures, from site output to quality trends to see if anything looks out of the ordinary. I then respond to any quality alerts or concerns and visit sites to carry out investigations if necessary. I am also involved with new build projects.
How does your work affect people's lives/the world around us?
Everyone across the world will always need clean drinking water, it's what our bodies need to survive. In the first world it's a given to have clean water coming out of your taps at home or work, and it is unacceptable if this doesn't seem to be the case. Every decision I or other colleagues make has an immediate impact on our customers, and we are always working at our best to ensure water is always available and of top quality.
There are a number of different routes you can take into a career in engineering. What route did you take (and why)?
I chose an apprenticeship because I felt it suited my needs better than studying for a degree. Although I enjoy the academic side of engineering and science I also like to have a good element of practical work, there is no better way to get to grips with things than getting stuck in. And earning a decent wage whilst studying for a nationally recognised qualification has its appeal!
How important was studying maths and science in school for what you do now?
Integral, every element of my job incorporates maths and science in one form or another, particularly physics and chemistry.
There are fewer women working in engineering than men? What would you say to girls who might be interested in a career in engineering?
Go for it – not all engineering jobs are physical and hands on, mine is a good example. If you're a good problem solver and like a challenge I would definitely recommend it!
What do you like most about engineering?
The diversity of the topic/job is what I enjoy the most – no day is ever the same and I always learn something new.
What do you like to do in your spare time?
I like to socialise, go cycling and am really passionate about music.
What personal qualities are important for being an engineer?
Good communication skills, good problem solving skills, and ability to work well within a team.
What advice would you give a young person who was considering engineering as a future career?
The world is always going to need engineers, engineering sits behind just about anything you can think of that people will always need i.e. cars, food, water, utilities…the list is endless! Whichever type of engineering you are interested in, you will gain priceless skills and knowledge which are transferable to a whole range of different industries or jobs.