Green means GO!
10 million car journeys, half a million cycle rides and 6 million bus trips every day - Kamlah Kew tells us about the challenges of traffic control engineering for London!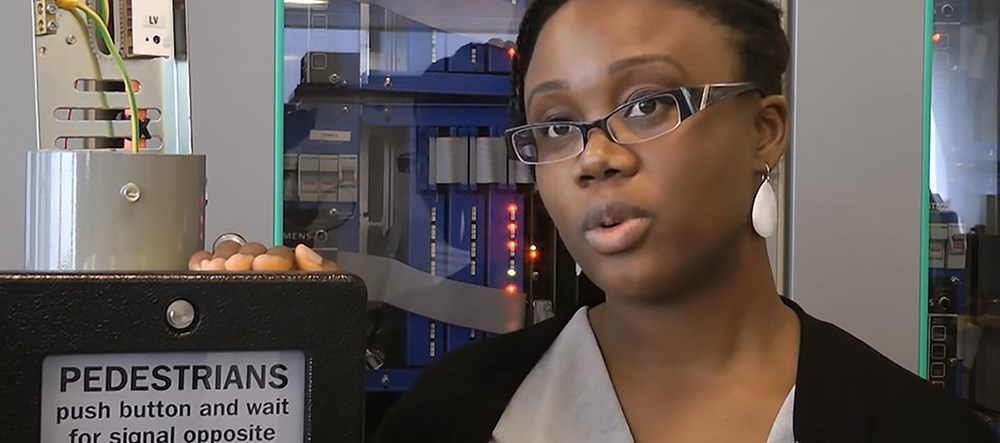 A city of 8.3 million people such as London causes challenges for the engineers who organise and plan the city's roads.
4 out of 5 of all journeys in London are on these roads - there are around 10 million car trips, half a million cycle rides and 6 million bus passenger trips on London's roads every day.
You might not know it, but it's engineers looking at this data, analysing the busiest times of day and making sure the roads, crossings and junctions are fit for the commuter challenge. Kamlah Kew focuses on traffic lights - designing the layout, changing timings and checking the signals work properly.
Tomorrow's Engineers spoke to Kamlah and she told us about how she loves combining her creative and practical skills to make a difference to people's lives every day…
Name: Kamlah Kew
Job: Traffic Control Engineer
Company: Transport for London
A-level studies: maths, physics, chemistry, art
Undergraduate university study: BEng, Electronic Engineering with Communications, University College London
Post-graduate university study: MSc, Physics, Optics and Photonics, Imperial College London
Tell us about your job!
Transport for London (TfL) is responsible for all the transport in London, so we look after the tubes, the river services, the buses, and the road network. I work in the department that looks after the roads, in particular traffic signals.
In my job I'm responsible for designing, and putting into action, traffic control schemes at new crossings or making changes to existing traffic signals. We design the layout, change the timings and check the signals work properly. We make sure they're safe for pedestrians and cyclists, for vehicles and buses, and we also make sure they don't cause congestion as much as possible. I'm also responsible for overseeing them as they're being built and checking them at the commissioning stage to make sure they operate as they should. 
Traffic control engineering draws on different types of engineering. It has elements of electrical engineering, electronics engineering, civil, mechanical and highways engineering.
How does your work affect people's lives and the world around us?
Everybody uses the road network. Whether you're a driver, cyclist, if you're walking to school or getting on the bus, it's really important that the road network is fit for purpose for everybody. That's where traffic control engineering comes in: we make sure that the road network is safe for everyone, that it's efficient to use, and that it's hopefully a pleasurable experience.
It sounds like a responsible job…
When we're designing traffic light signal systems we take a lot of different things into consideration. We need to know where people are going to be walking, in particular if you're going to school, and we think about where crossings need to be located to help kids cross the roads safely and what the timings need to be so everyone can get across the road safely. We need to balance this with the needs of other road users such as cars and buses.
We have to meet strict rules and regulations to make sure the traffic lights are safe but it's quite rewarding to know that once you've done a job properly, and the lights are working, you're helping road users with their daily lives by making the roads safe.
What inspired you to become an engineer?
At school my favourite subjects were maths, physics and art. I really wanted to have a career that could be technical, creative and allow me to solve problems, so I think engineering was the perfect career to combine these things. I really like solving problems, and designing and making things, and engineering was the best mix of all those things.
There are lots of different routes into a career in engineering. What route did you take and why?
I decided to study electronic and electrical engineering at university and so I studied maths, physics, chemistry and art at A-level. I applied for a graduate electronic engineering scheme at TfL and got "on-the-job" training as a traffic control engineer through that.
I decided to take that route because I really enjoyed studying at school and I thought having a degree in engineering would be a really good foundation for the rest of my career. Getting a degree enabled me to apply for a graduate scheme at TfL which then helped me develop my career through their graduate electronics engineering training scheme.
How important is it to study maths and science at school to prepare for a career in engineering?
Engineering depends on applying the theories of physics and calculations. If you're studying them now then keep at it because it's definitely worth it in the end to become an engineer.
There are fewer women working in engineering than men. What would you say to girls who are interested in becoming engineers?
I think it's an amazing career so definitely go for it because there's no reason why there should be more men. I think women have exactly the same skills and qualities so if you're interested then don't be put off: girls should go for it.
What is your favourite thing about engineering?
I like solving real-life problems for people. I like having the chance to build and create things, and see the things that you've designed working and helping people. I love the feeling of seeing a set of lights that I've built working, keeping people safe, helping avoid collisions and accidents or helping people get across the road to get to school. Seeing things I've seen designed being used by people gives me a real sense of satisfaction.
What personal qualities do you think are useful if you want to be an engineer?
I think the kind of person that could be an engineer is anyone who's committed to solving real problems. If you're creative, you like challenges, and you like designing things or trying out new ideas then it could be the job for you. It's important to be enthusiastic and have a can-do attitude.
Why should young people consider a career in engineering?
It's a really well-respected profession. It's like a ticket to travel the world because good engineers are valued everywhere. It gives you the chance to be involved in some really amazing projects. I worked on projects involved in the London 2012 Olympics and that's been one of the highlights of my career. If you want that sense of achievement that your work is being used to improve society and life for the general public then it's a really good career to consider.
What do you like to do when you're not at work?
When I'm not at work I really enjoy art, drawing and painting. I also like spending time with my friends, going out for walks, and playing the piano too.
If you could go back in time and invent anything, what would it be?
I'd invent the internet. It's amazing and it's revolutionised the world. I can find out what's happening anywhere in the world using social media so I wouldn't mind taking the credit for that.
More links:
Careers at Transport for London
Engineering at University College London