Engineering - the golden ticket to a great career
As an automation engineer, Ben Phillips gets to go behind the factory gates of West End musical production Charlie and the Chocolate Factory. We found out what working on a world-class theatre production involves.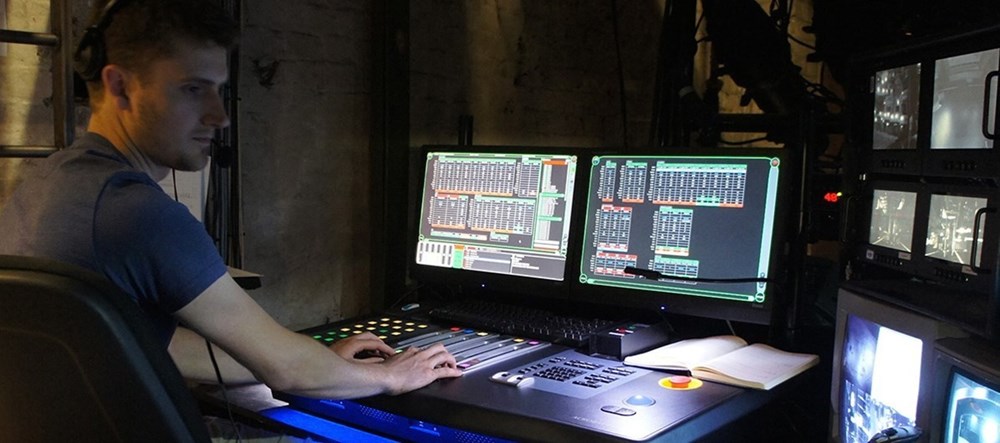 Name: Ben Phillips
Age: 26
Job title: Head of Automation
Company: Charlie and the Chocolate Factory – The Musical
Hometown: Kent
Qualifications: City & Guilds 2360 Electrical Installations
We met up with Ben to see how he makes the glass elevator rise into the night sky, as well as the other spectacular effects that you can see in the show.
Hi Ben, tell us about your job…
I work as an Automation Engineer on the West End musical production of Charlie and the Chocolate Factory. My team and I are responsible for all of the production's moving scenery. Using a computerised interface we are able to control electric motors, hydraulics and pneumatics to create precise movement of lifts, flying scenery and stage trucks.
This system allows us to be consistently accurate when making the complicated transitions between scenes at every performance. Integrating a central system for the movement of scenery is still a relatively new, although now rapidly developing, practice in theatre production. Its use allows us to integrate a relationship between each piece of scenery making theatre a safer and more efficient environment to work in. My job therefore requires a good understanding of both electrical and mechanical engineering.
What do you like most about engineering or your job?
Working with other people on the production. We all have an amazing 'team effort' ethic. All 80 backstage staff employed on the production helped to create the show over 18 months ago, and we still work together to maintain the safety and integrity of the show every night.
How did you first become interested in engineering?
I had an early interest in engineering, which first grew from a Saturday job I had at a car breakers yard. I would often engineer my own gadgets from unused parts!
There are a number of different routes you can take into a career in engineering. What route did you take?
I undertook a course at college in electrics. During the summer holidays however, I would travel down to London to undertake mini courses (such as theatre engineering) at the National Youth Theatre. In the third year of my electrical course, I decided to move down to London to give engineering a real shot. If I could find a career that would nurture and grow my engineering skillset, I'd stay. But if I couldn't, I'd come home to complete my college course.
With hard work and a lot of ambition, I secured a job as a spot operator on Mamma Mia! The Musical. From there, I moved onto becoming an automation engineer on the Sound of Music, We Will Rock You, Legally Blonde, The Wizard of Oz, The Bodyguard and now Charlie and the Chocolate Factory.
How important was studying maths and science in school for what you do now? Did you enjoy it at school?
Extremely important! Both maths and science are absolutely relevant to almost any engineering career. I'm not the most academic person in the world and certainly didn't enjoy the theory in either subject at school, but I manage to adapt learning techniques to suit me, often this involves setting up some ropes and pulleys and physically creating, whilst learning a mechanical system.
I certainly remember being at school and being confident maths and science would not be required for my chosen career path in theatre, how wrong I was!
What personal qualities do you think are important for being an engineer?
Working as an engineer for live theatre or events requires you to be calm during high-pressure situations. When not carried out correctly our work can be dangerous and therefore making well-informed decisions is very important as is being able to pass on information coherently and quickly to the relevant people. Having good people skills is critical too.
There are fewer women working in engineering than men. What would you say to girls who might be interested in a career in engineering?
What's stopping you? Engineering is one of the most versatile careers in the world. The entertainment industry alone offers a huge variety of opportunities in many different engineering sectors, many of which offer you the opportunity to work around the world. Theatre certainly employs a large number of women from sound to lighting and automation engineers all with very different skill requirements which can suit any individual with an interest in engineering.
What do you like to do in your spare time?
Working as an engineer requires long hours and dedication. I work 6 days a week, therefore time at home and socialising with friends is very important to me whenever I have time, as well as a bit of DIY!
If you could go back in time and be the inventor of any product, what would you choose?
I've always thought it would be great to have invented something, which has a direct impact on people's everyday lives. I believe the electric motor is one of the most important inventions ever created. We take it for granted that we can simply plug in a fan or even stand on an automated travelator at an airport.