Changing impacts on the environment
Irene Serrano Gonzalez is a civil engineer and sustainability consultant in the Strategic Consultancy team at AECOM London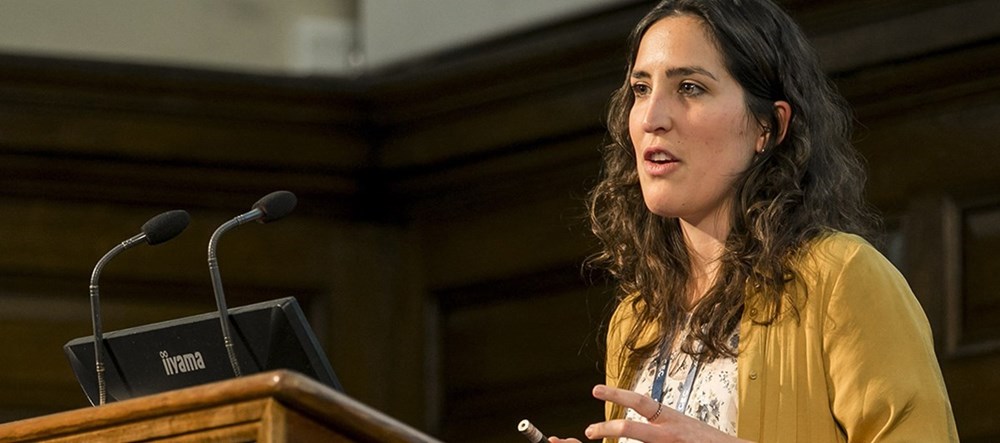 Tell us about your job. What do you do?
I provide technical expertise to organisations such as governments in the fields of environment and infrastructure, so that they can take better and informed decisions.
What does an average day look like for you?
I wake up and I normally cycle to the office in the centre of London (other times I work from home). I spend my day there working, with spreadsheets and reports normally, and having meetings. I like also to have coffees with my colleagues. Then in the evening, I cycle back home.
How does your work affect people's lives/the world around us?
Potentially it helps reduce the present and future impacts on the environment (including climate change) and general improvement of the environmental status of cities or regions. I am also part of an NGO (Non-Governmental Organisation) called Engineers for Overseas Development, which are designing and building a set of eco-sanitation toilets for a rural hospital in Uganda. This work directly helps people living in the area by providing them an example of simple toilet construction that they can replicate at their home.
How did you first become interested in engineering/what or who inspired you to be an engineer?
I chose engineering because of the amount of applications and different fields that it can be applied to. I also loved architecture because I think good architecture makes people feel good in a specific environment. I think the same for engineering -  although sometimes it might not seem very creative, it is.
There are a number of different routes you can take into a career in engineering. What route did you take (and why)?
I studied civil engineering in Spain and in Sweden, something I am very grateful for as it gave me different perspectives of the profession.
Which of the subjects you studied at school, college or university do you use in your job?
In my first couple of years working I was doing structural calculations so mathematics was essential. After that and due to a redirection of my career, I have been using more statistics, science and economy.
Who else do you work with?
I work in a team of four people, but they are not based in my office. I normally work on my own and then we put together the work we have been doing through a meeting or call.
What do you like most about engineering?
Engineering has taught me mainly to think: for instance, why something has occurred, its consequences, how to get a solution, its risks etc. This can be applicable to many things, to design infrastructure but also to analyse how it works from the technical, economic and environmental perspective.
What are the challenges or downsides to your job?
Nowadays and how the environment is applied to the infrastructure, it can be sort of a "check-list" –analysing the impact of an infrastructure on the environment and the other way around. Therefore, it is a challenge to actually try and provide value although this is changing due to raising awareness of the implications.
What are your aims as an engineer?
My career goal currently is to apply my knowledge and keep learning about improving the environmental status for regions and cities, mainly in developing countries.
What opportunities are there to progress in your role or be promoted?
For instance, I presented the project that I am involved with the NGO, Eco-sanitation toilets, to the WFEO's Young Engineers competition and got shortlisted. I then presented it at the Institution of Civil Engineers during the Global Engineering Congress in London in 2018. It was a great experience and opportunity to share what we do.
What skills and personal qualities are important for being an engineer?
I think it does not matter what profession you do. Having a willingness to learn, to improve and to try new things and be wrong are very important skills to get to whatever you enjoy doing.
If you could go back (or forward) in time and invent anything, what would it be?
I would invent something to make us look back and remember what we felt at certain situations, especially when we thought we couldn't achieve something and then we did. This way we could trust ourselves more and don't forget about that feeling.
What advice would you give a young person who was considering engineering as a future career?
I would say to try and understand all the applications that engineering has and never stop looking for whatever they are interested in, even if that is outside engineering.
Does your work overlap with other types of engineering/science/technology?
Yes, as I have mentioned above my work is quite multidisciplinary and has high-level vision involving other fields such as the economy.
What do you like doing in your spare time?
I love cooking, especially bread-making, running, cycling, yoga and of course spending time with my partner, family and friends.
What do you want to do next in your career?
I probably would like to focus more on the type of work that I enjoy which is environment and engineering consulting within the international development sector.