My life in engineering
Atkins structural engineer Christina Varnava tells us about the projects she works on, what she enjoys and how she first became interested in engineering!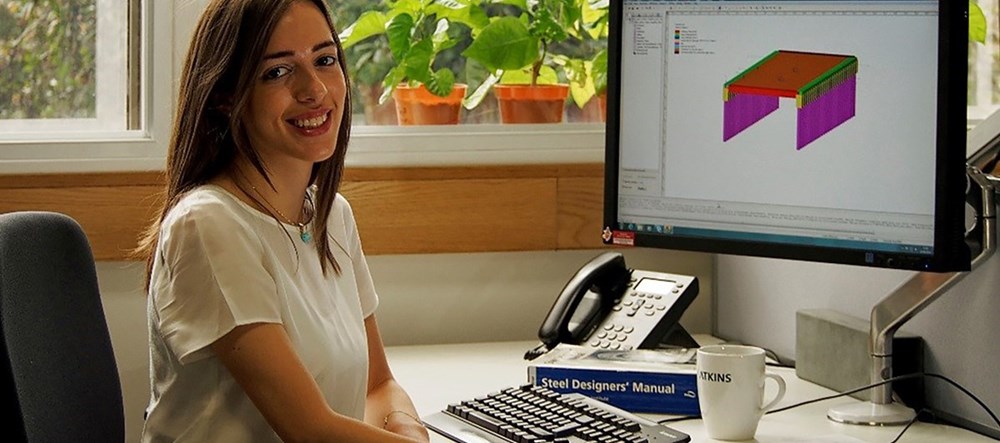 Name: Christina Varnava
Age: 25
Job title: Assistant Structural Engineer
Qualifications: BEng Civil Engineering, The University of Manchester (Top Undergraduate Year Prize 2011)
MSc Concrete Structures with Business Management, Imperial College London (2011-2012)
A-level studies: maths, further maths, physics and French
Employer: Atkins
Location: London

What inspires me about engineering?
All the structures that surround us and that are part of our everyday life have been designed or assessed by an engineer. Think about the city you live in; its buildings and bridges, your school and house, these wouldn't exist without engineers! Could you imagine that?
The thing I enjoy most is designing solutions for challenging projects and meeting client needs through hands-on practical work and creative thinking. Engineering is a source of fascination and inspiration to me. The dynamic and evolving nature of engineering allows me to have an impact in society, improve our natural environment and develop the economy, all leading to a sustainable future. As an engineer, I have the satisfaction of imagining, dreaming and creating a better world.
When did it all start?
My dad is a civil engineer and from a very young age I remember being fascinated by the structural drawings and construction site photos that he used to bring home. I asked him questions about these and tried to imagine them for real. I found it inspiring to explore how things are put together, from concept stage to construction, to form structures that will improve the way we live.
I wanted to be part of this change and realised that the subjects I enjoyed most at school like maths and physics involved solving problems and that engineering was definitely the right subject to study at university.
After graduating, I got onto a professional training scheme here at Atkins and hope to become a chartered engineer soon.
What do I do now as an engineer?
My job as a structural engineer is to ensure that all the bridges and structures I design are safe and sustainable for us to use. When I am designing a bridge, I apply maths and physics to calculate the effects of cars and trucks driving over it, as well as the weight of material like concrete and steel that's used to build the bridge. I usually carry out hand calculations and sometimes create design models on computer software.
Since I joined Atkins, I've been working on various bridge designs, assessments and management schemes. It's fun being exposed to a range of different projects, as you never get the same challenge twice - you never get bored! I believe it's this variety that makes engineering one of the most interesting and rewarding careers you can do. Every day is a new experience and challenge!
It's all about the challenging projects
The work I do usually involves collaborative team working where innovation is encouraged as experience and skills are shared.
Recently our team completed the design of a new bridge in Oxford, to allow business investment in an upcoming location. I now often visit the site to offer construction support. Whenever I look at the bridge progressing it's a satisfying feeling as I can stand back and say: "I was part of this!" We have spent a lot of time in the office modelling and drawing the bridge on paper and software, so knowing that it will still be there for many years to come is rewarding.
Last winter, I also contributed to temporary design solutions for flood relief works in Somerset. We looked at building bridges over an open channel to ensure public safety in the event of flooding. It's really nice to know that you can give something back to society.
I've also worked on prestigious projects maintaining London's listed landmark structures like Battersea and Twickenham Bridges. Projects like these make me realise the ethical responsibility and respect involved in engineering, preserving historical structures for future generations.
Being part of a team
When working on engineering projects you are always part of a team. Our team recently attended a practical water safety training course to identify risks when working close to bridges over water, which was also good fun.
Not just for boys
In the past engineering was thought of as a male-dominated career, something that might have stopped a lot of girls from getting involved.
In my team there are another two women engineers who also combine working with being a mum, so don't be put off by stereotypes. I would encourage girls who enjoy maths, physics and solving practical problems to get into engineering. You can continue doing what you are good at and enjoy!
In my spare time
I started practicing classical ballet when I was six and when I'm not in the office I'm usually at the ballet studio near my house. I also enjoy volunteering and organising charity events in my office. Last year I managed to bake 50 cupcakes for Save the Children. Here's a photo of me from Christmas Jumper day, with lots of the cakes gone immediately!