Engineering and disaster relief
Hurricane Haiyan caused devastation in the Philippines in 2013 - find out how Alice Bond is using her engineering skills to help the local communities.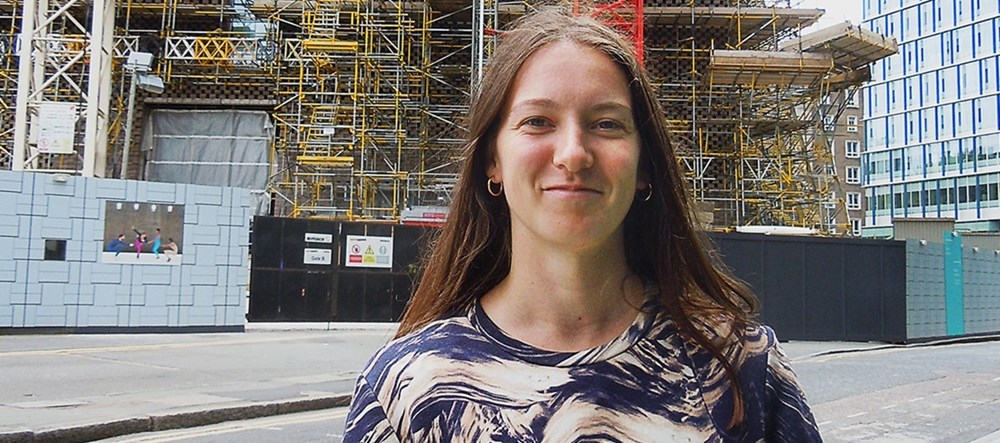 Alice Bond is a structural engineer working in London.
One of her current projects involves working with engineers and architects in Tacloban in the Philippines, which suffered large-scale destruction because of Hurricane Haiyan in 2013.
The company that Alice works for, Ramboll, is helping develop an orphanage and teaching centre out there in its aftermath. We found out a bit more about Alice.
Name: Alice Bond
Age: 23
Job title: Structural Engineer
Qualifications: Masters in Civil Engineering, Physics, Maths and Geography A-Levels, Product Design AS Level
Employer: Ramboll
Where you live: London
Tell us about your job. What do you do?
I work as a structural engineer for Ramboll which involves working with the architect, client and other engineering disciplines in order to create structures which are functional, cost-effective and sustainable.
What does an average day look like for you?
At the moment I am working on the superstructure (the bit above ground) of an office development in East London. This involves designing the beams and columns and analysing the floor to make sure it doesn't wobble around too much. The existing front façade will be retained so it's important to make sure this will connect to the new building properly.
The work on this project takes most of the day, but in addition to this I am involved with a charity project which Ramboll supports which is based in Tacloban in the Philippines. Hurricane Haiyan either damaged or destroyed a great deal of their infrastructure and we are developing an orphanage and teaching centre out there in its aftermath.
The wind speed during Haiyan was 320km/h for prolonged periods of time and the professionally designed buildings in Tacloban were only designed to withstand 250km/h. We work with a local engineering and architecture company out there via email and Skype to ensure their designs are carried out correctly using good engineering practice.
How does your work affect people's lives/the world around us?
My projects affect people in very different ways. The Tacloban centre will give over 67 young people a home and a place to study. Our collaboration with the local firm in the Philippines will improve their engineering knowledge and understanding of design for future projects. The office development in London will be designed using the best sustainable practice we can offer and retaining the front façade will maintain an important historical aspect to the site.
How did you first become interested in engineering/what inspired you to be an engineer?
I really came into engineering by complete accident. Growing up I wanted to be an astrophysicist because I was completely fascinated by space. When I was in year 12 I went to an open day at a local university with my physics class and they taught us about the different types of engineers. Structural engineering really intrigued me because I have always loved architecture and liked the idea of applying my maths skills to solve problems creatively.
There are a number of different routes you can take into a career in engineering. What route did you take (and why)?
After A-levels I studied Civil Engineering at university in Exeter and then began the process of becoming a chartered engineer with the Institution of Civil Engineers (ICE).
How important was studying maths and science in school for what you do now?
Having a working knowledge of maths and physics is fundamental to the work I do each day. Once you know the basics of how, for example, load moves through a block you can apply those principles to a whole building. Then you can design that building!
There are fewer women working in engineering than men? What would you say to girls who might be interested in a career in engineering?
There are definitely fewer women in engineering than men and I find that a great shame. I think that's partly due to the image in many people's minds that we fix cars and boilers. But it's getting better every day – check out the Twitter hashtage #ILookLikeAnEngineer which is trying to remove the gender bias. In my office at the moment there are plenty of amazing women, so I'd say to any young woman considering the engineering route, absolutely don't be put off by the gender imbalance in the industry.
What do you like most about engineering?
Having basic engineering knowledge can take you to a lot of interesting places (and I'm not just talking geographically). There are a lot of very exciting things going on at the moment with parametric design and modeling, allowing very complex geometric forms to be created.
There is lots of work in developing countries where you can help local communities. In addition, as our population is rising and our resources are being more and more tightly squeezed, engineers will be working on those problems too. Our skills can be applied to such a range of problems, so I guess my favourite thing about engineering is the diversity. You never know where your job might take you.
What do you like to do in your spare time?
I am a keen traveller, sportswoman (ski, surf, mountain climbing and cycling) and I write for the music blog 'Crack in the Road'.
What personal qualities are important for being an engineer?
Being good at multi-tasking, solving problems and teamwork are important, and if you're good at communicating that is definitely useful. A sense of humour helps too!
If you could go back in time and invent anything, what would it be?
One thing I'd really like to have been part of was the design procedure behind some of the great cathedrals. It must have been a fascinating journey putting together a set of rules for how they should be constructed, which was partly down to trial and error!
Many, many cathedrals have been around for hundreds of years which is incredible given that the design life for a great deal of buildings built today is only 30-50 years.
What advice would you give a young person who was considering structural engineering as a future career?
Engineering is massively rewarding and it's the kind of job where you will never stop learning. There are so many different areas of structural engineering that you can go in to that you certainly won't be bored throughout your career.
If you're prepared to work hard, enjoy solving problems and working in a team then it could be for you. I would recommend doing some work experience (even if it's just the odd couple of days) to see if you are interested in the sort of thing that engineers do on a day-to-day basis.