The buzz of the chase
Whether she's chasing radio pirates, or helping aeroplanes to land safely, no two days are the same for Sara Salim. Sara works as a Radio Spectrum Engineer for Ofcom, making sure we get crisp and clear radio, television, and mobile phone signals. Tomorrow's Engineers spoke to Sara about the buzz of engineering, and the glamour of her job behind the scenes.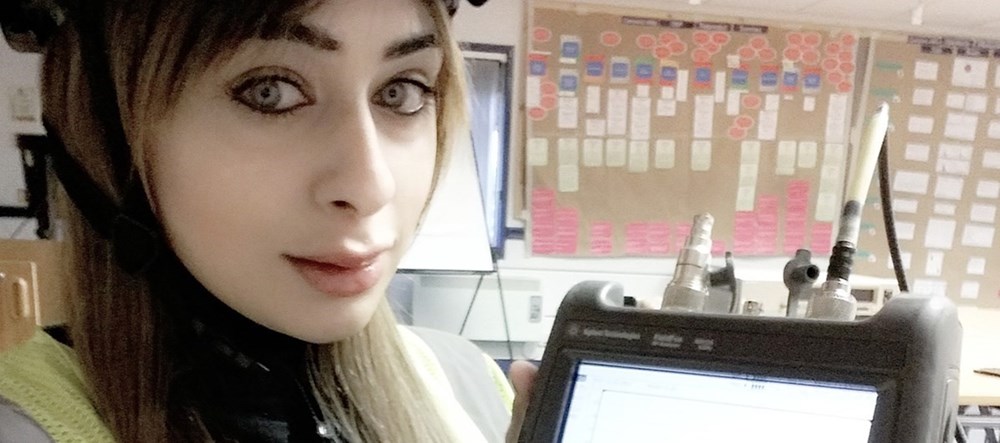 Whether she's chasing radio pirates or helping aeroplanes to land safely, no two days are the same for Sara Salim.
Sara works as a Radio Spectrum Engineer for Ofcom, making sure we get crisp and clear radio, television and mobile phone signals. Tomorrow's Engineers spoke to Sara about the buzz and behind-the-scenes glamour of engineering…
Name: Sara Salim
Job title: Radio Spectrum Engineer at Ofcom
What does a Radio Spectrum Engineer do?
They monitor and maintain the radio spectrum – all the unseen signals. We go out and solve interference problems and regulate communication. We solve problems for the police, ambulances, broadcasters, aeroplanes and major phone companies like Vodafone and Orange.
Why is this necessary?
The spectrum is regulated by the government and it's our job to keep it free from interference. If you're an Orange customer and have any problems, such as other people talking while you're on the phone, you're going to complain to Orange. Then they will complain to Ofcom so we have to make sure the spectrum is totally clean.
What does Ofcom do?
Ofcom stands for the Office of Communication. They regulate any sort of communication on TV, on radio and over the airwaves. I'm in the engineering communication side of Ofcom and we deal with interference and other technical problems.
Do you protect the spectrum for safety reasons as well?
Ambulances, the emergency services and aircrafts all have their own spectrum. They would be at the top of the priority. A case might come in that's life and death, where the ambulance crew can't receive a signal on their phone - it's our job to go and resolve the problem.
Aeroplanes might also have problems. Once we had a plane that was finding it difficult to land. A couple of engineers went out there to solve the problem, which was eventually allocated to a baby monitor!
All kinds of other devices give out signals too. You have a mobile that gives out a signal. At home you'll have industrial electrical products and domestic appliances like washing machines, kettles and phone. Those can also cause interference.
Can you describe an average day in your job?

There's no average day for us. One day you could be going on a life-or-death job where the police have problems with their radio. They might not be getting any signal so we'd be tracing it and finding the direction of the signal. We would tune into their frequency, working in pairs, to see where the problem is coming from.
On another day there could be radio pirates in London. They could be interfering with the signal of BBC Radio 1 if they were using high power. We go hunting for them to find where it's coming from and then get a warrant to seize their equipment. We could be breaking doors down and seizing the pirates' equipment with the police. So that's the enforcement side.
On a different day, Vodafone might say they're having problems with their customers' phone signals and so we'll go out and solve that problem.
It sounds like a fast-paced, exciting job…
Yes, you have to think on your feet, make decisions, manage yourself and be disciplined. You know how to approach it when these situations arise because you've been trained.
What first got you interested and involved in engineering?
It's not what you'd expect someone to do, especially as a female. It's different and I believe it's unique. I like investigation, seeing things which are there, but without that investigation you can't find out.
Traditionally, engineering is seen as a male dominated industry. Do you think women are well suited to a career in engineering?
I think they can be. It is a male dominated environment but hopefully that can be changed. Women need to understand that they can be engineers and that engineering is not about dirty overalls and dirty grease everywhere. If you want to be an engineer you can do it.
How did you get the job you do now?
I was an apprentice - now I've finished and I'm a qualified engineer. I did an HND (Higher National Diploma) in Electrical and Electronics Engineering at Bedford College. Now I've almost finished the degree that I'm doing, a Bachelors of Engineering (BEng) in Telecommunications at Blackburn College. One more module and I'll be complete
How did you find out about the apprenticeship?
I came from an engineering background. I trained as a technician in automotive engineering but I had an interest in radio. I was always wondering how a signal travelled from one place to another place with mobile phones and thought "there must be a logic to it".
I was trawling the internet and came across an apprenticeship at Ofcom to work with radio frequency. So I applied, made it through the selection round and assessments. Out of a couple of hundred applicants I got to the final ten to win a place on the apprenticeship. I think it's the best decision I've made.
How does an apprenticeship work?
The apprenticeship was full time. You do one day in college completing your HND on a Monday. The rest of the days you're working, shadowing other engineers, doing the job yourself and trying to build up confidence to go out there and work.
On your apprenticeship what subjects did you study?
We covered radio frequency as a subject, we covered maths, physics, science and mechanical engineering, electrical engineering and electronics engineering.
What would you recommend about this route?
I thought the structure was absolutely brilliant. Being practical is a fantastic approach. There's sitting in the classroom and there's doing it, but you have to have some theory as well. It's the best of both worlds. You get experience and knowledge and a qualification, and you're getting paid for it.
The salary was not bad at all and you don't get into debt at university which could be stressful. You also have fully qualified fantastic engineers around you to help if you're ever struggling with something.
If you can build your way up slowly like that it's a good approach. It's the best combination to being a very good engineer.
What advice would you give to someone if they wanted to do your job?
First of all, you need to have the mind-set if you want to go into engineering. You should build it up inside first by thinking "I want to do it and I can do it". Try to seek advice from people who are in the engineering industry. Speak to them to see how they got into it and find out if there are any apprenticeships available.
How did you get here education-wise? What did you study at school?
I did GCSEs and my result in maths wasn't what I expected so I retook it and passed. Then I went on to do physics and maths A-levels as well. After A-levels I did a degree in Quality Management while working at night school at the same time.
After that I joined Ofcom, completed my HNC and then did a HND Electrical and Electronics Engineering and then last September I started my Bachelors of Engineering which should be completed by the end of March.
Do you need to know about maths and science to do this job?
Absolutely. When I was in school I failed my maths exam. Now I have an equivalent module in my HND. The maths of engineering is totally different to the maths that you would learn in school because there's a meaning behind it which you understand if you do it. You'll be doing things like calculus. It sounds scary but it's not difficult because you're looking at a process and how you do it - then you can apply it within engineering. Seeing a purpose to maths helped me see a point to it.
Your job takes you to some unusual places, where is the most exciting place that you've had to work?
 
For a week I was seconded to work with the Formula One team in Belgium, looking at the radios of the cars and managing their spectrum. I was making sure there were no interferences and had to make sure they comply with the law of the country that they're in. You get to go to the pit and areas where the public can't go and I've worked alongside David Coulthard and Lewis Hamilton.
You get close up with these famous people but you're obviously working alongside them so you have to be professional. You need to have passes and accreditation to actually be at the venue and they have a lot of trust for you because your job is so important to what they do and their safety.
Engineering is the most glamorous career I've ever come across because you can go to places where the public don't go. Engineering entitles you to do that, for example working with F1 and with MotoGP. You meet those people on a daily basis, fix their cars in the pit and sit down in a meeting with them.
And you got to meet Prime Minister David Cameron once too?
I attended the launch of the Queen Elizabeth Prize for Engineering in November with John Beddington (the Government's Chief Scientific Adviser) and David Cameron. We all went to the BBC and spoke to the whole nation about what we want to do. We want to encourage young people into engineering and help them understand what real engineering is, not just dismiss it as a career. As David Cameron said in his interview, everything around us has been engineered. I also saw One Direction and other famous people in the green room.
What's your favourite part of the job?
It's a successful result. Every time I go out on a job and I've analysed the situation and know exactly where signal interference is coming from using my tools - that is my favourite part of the job. It gives me such a buzz when you know you've worked hard and tracked it down.
You can turn your engineering skills to any discipline and tailor it to your interests like I did with radio. You can be a broadcast engineer, you can be an engineer working in photography if you like photography.
I like most of my job. I enjoy travelling and I enjoy meeting different engineers all over the country. And I'm looking forward to working at the Olympics.
What will you be doing there?
I'll be maintaining and looking after their spectrum. There will be millions of people there with phones as well as the broadcasters. They will suffer problems so it's our job to go and find out what problems there will be, track them down and contain them effectively and efficiently.
What do you see yourself doing in the future?
I would like to stay with Ofcom because it's a fantastic company, it's fair and it supports engineers and motivates its people by supporting their education and development needs.
What do you like to do outside of work?
I love horse riding. I love go-karting, fast cars, reading and travelling. I like dressing up like any other girl. A lot of people think that if you're an engineer that you have to be a "non-girly girl" but I'm not like that.
Links