Challenging and changing perceptions
Stephanie Alexander talks about how she is encouraging diversity in engineering and why it is so important.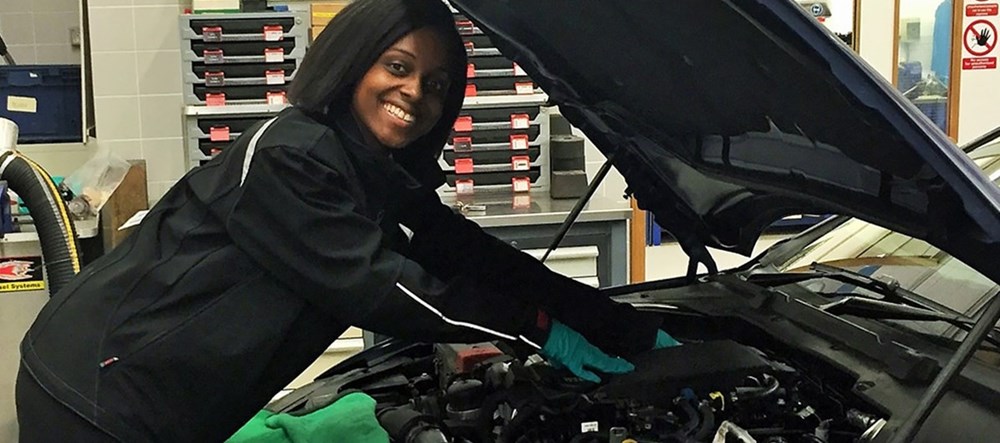 Name: Stephanie Alexander
Qualifications: Motorsport Technology BSc (Hons), University of Hertfordshire; EngTech
Employer: Bosch
What I love most about engineering is the freedom to be creative, and the satisfaction I get out of thinking up small ideas to make a big difference. However - there are still big challenges that I need to overcome, not just in a practical sense, to be able to so this.
The biggest challenge I face as an engineer are the perceptions people have of who or what an engineer is, and what they can do. No one should be restricted from being an engineer if that's what they're good at, and want to do.
University and my career so far at Bosch
When at university, there were not many engineers that were female or of an ethnic minority. In fact, I was the only female automotive engineer of an ethnic minority in my graduating class. For this reason, I always try and encourage as many people as possible to follow a career in engineering. I want to highlight the diverse opportunities it could offer. I want to show how it can give you the chance to meet so many brilliant, intelligent people.
In nearly two years at Bosch I have been given the opportunity to work in various diverse teams, both here in the UK and in Germany. I have been able to test off-highway vehicles (diggers, trucks, tractors etc.), work with leading car companies at the start of new vehicle projects and on current ongoing projects; all the while ensuring the Bosch values of quality are maintained.
How I am advocating diversity in engineering
I have been a member of the Institution of Engineering and Technology (IET) since 2012, which has helped to further my knowledge and understanding of what it meant to be an engineer. I gained an Engineering Technician award a couple of years ago, and am currently working towards Incorporated Engineer status. I don't want to ever stop learning because I am in a sector that is continuously evolving.
Since being at Bosch, I have taken part in educational roadshows where I have visited schools to demonstrate the variety of exciting projects engineers can be involved in. This year in particular I am involved in supporting Formula Student, Europe's most established educational motorsport competition. I was also a competitor in Formula Student in my final year of university. It's a great chance to meet the engineers of the future.
In order to encourage more people in to engineering I am also taking on a role as mentor for a young up-and-coming engineer as part of the Bosch 'Between us we can' campaign. The campaign aims to fuel the imagination of young women engineers to think of innovations and ideas to bring the Internet of Things (IoT) to life. It offers an exciting and exclusive prize for the best three.
My words of advice for young or aspiring engineers
Working in engineering doesn't have to be all about cars or mechanics: engineers are renowned for their ingenuity and problem-solving skills in all areas of life. Get as much experience in different fields as you can so you know what you love and want to do in the future.
If you are interested in problem solving or have a great idea that others could benefit from then try engineering. If you want to build, or you want the chance to test and manage life-changing projects, then it might be the job for you. Embrace it!
For more information on Bosch's 'Between Us We Can' campaign, visit: www.bosch.co.uk/betweenuswecan
Useful links:
Jobs and careers at Bosch
The Institution of Engineering and Technology
Formula Student
The Engineering Council