Building a sustainable future
40% of UK carbon emissions come from the built environment, and building services engineers like Sally are helping make buildings more sustainable and comfortable.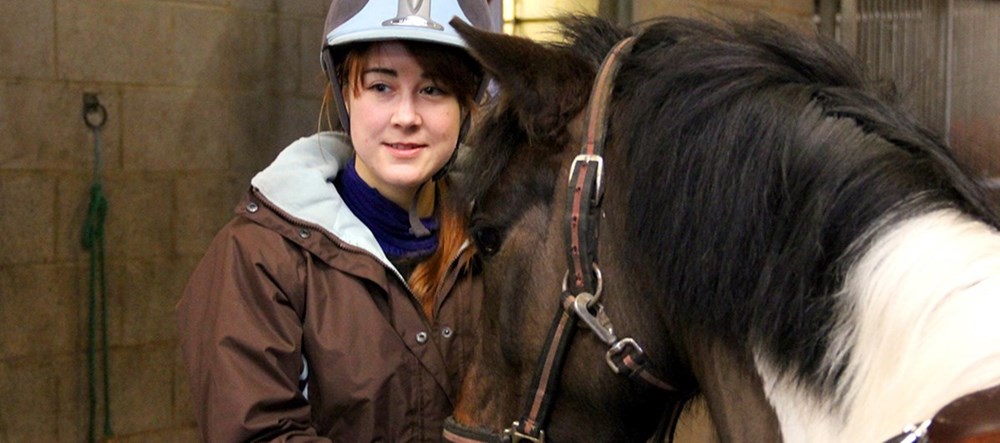 Whether you're in school or in the supermarket, engineers like Sally Biddlecombe help make buildings comfortable places to live, learn or work.
They look at heating, humidity, CO² levels and more.
They also help the environment - in the UK around 40% of our carbon emissions come from buildings, and these can be designed to be more energy efficient.
Read on to find out how growing up in Cornwall inspired Sally to use her engineering skills to help the environment…
Name: Sally Biddlecombe
Job title: Graduate Mechanical Building Services Engineer
Company: Arup
Lives: Bristol
A-level studies: Physics, maths, biology
University degree: MEng Mechanical Engineering with Sustainability, University of Warwick
What do you do?
On a local level, we design the "mechanical services" in a building which means we'll be looking at the different aspects of what makes a room comfortable which we can control. If you think about the space you're sitting in now, we'll be looking at heating, the relative humidity and the CO² levels which keep the air fresh so you don't get drowsy and fall asleep.
On a larger scale the industry I work for has a really big impact on the greenhouse gas emissions for buildings, which produce about 40% of the UK's emissions. That's what really motivates me about the mechanical building services we design. For example, we're looking at new materials that we could make a building out of that can reduce heat loss and make a building more efficient.
What made you want to go into engineering?
I grew up in Cornwall surrounded by wind farms, solar panels and other renewable energy technologies and that really influenced my decision to work in engineering. I really wanted to help the environment and reduce the greenhouse gas emissions of the UK by getting involved in renewable technology.
I didn't realise that renewable technology was part of engineering until I was at school. My A-level physics teacher suggested I look into engineering, so I did, and decided that was what I really wanted to do. I came to the conclusion that it's the built environment that's really contributing to emissions and wanted to help tackle the problem at its source.
What does an average day look like in your job?
I might be in a meeting with clients or my colleagues to discuss their particular requirements for a room in their new building. I might be doing some calculations to see what a room needs or I might be designing these in 3D on a computer.
What has been your favourite project to work on?
We did an energy study on an eco-school which Arup designed. We went in and looked at their energy use and the temperature of the classrooms. It's a timber structure with under-floor heating and it's full of renewable energy so was a really interesting project to work on.
We ran a workshop on sustainable building design with the children and showed them all the aspects of their classrooms that were renewable and sustainable. The children seemed really interested and it was great to see them running around, pointing out all the renewable energy features!
Why should young people think about a career in engineering?
It's a great career and it offers a lot of opportunities. You can work on projects all over the world in a variety of different areas and you can really make a difference to something you're passionate about.
What did you study at school and university to become an engineer?
I studied A-levels in maths, biology and physics. I then studied a Masters degree in Mechanical Engineering with Sustainability at Warwick University, which I really enjoyed. I got onto the graduate scheme here at Arup and hope to go on to become a chartered engineer.
Is it important to study maths and science for your job?
I think studying maths and physics are massively important. I use maths every day in my job and really enjoyed these subjects at school, so that was a bonus. You learn a lot of problem-solving skills and you learn how things work.
What skills or personal qualities do you need to be an engineer?
I think to be an engineer you need to be creative, a logical thinker and interested in solving problems. I think you also need to be passionate about what you do, as well as compassionate and sensitive to what you're doing. You need to consider the environment and local people in everything you're designing.
There are currently fewer women working in engineering than men. What would you say to girls who are interested in a career in engineering?
To any girls who are interested in studying engineering, I'd say definitely go for it. Don't be put off by the fact that it's seen as a traditionally "male-dominated" industry. You should do what you enjoy, and what you're good at, and you shouldn't let anything get in your way.
When I told people I was going to do engineering, people assumed I was going to be a mechanic, but there are so many things you can do with an engineering degree. It doesn't have to be manual. It can be design work, architectural work, or many other things, so just go for it.
What do you like to do in your spare time?
In my spare time I enjoy horse-riding, reading and cooking. I'm also involved with the organisation Engineers Without Borders. They aim to break down barriers to development in the developing world through engineering. I'm a member of the Bristol group and we run talks, trips and events.
Can you tell us about a project that you're working on with EWB?
We're working with a group of students from Bristol University to design a bicycle that can be locally built in the Gambia and used by children on their way to school. In projects like these you're thinking "outside the box" and applying your engineering skills in a way you wouldn't in your day-to-day job.