Forward thinking foot fashion
We put ourselves in Asha's shoes, to find out what it's like to be a footwear production engineer at famous British boot brand Dr Martens.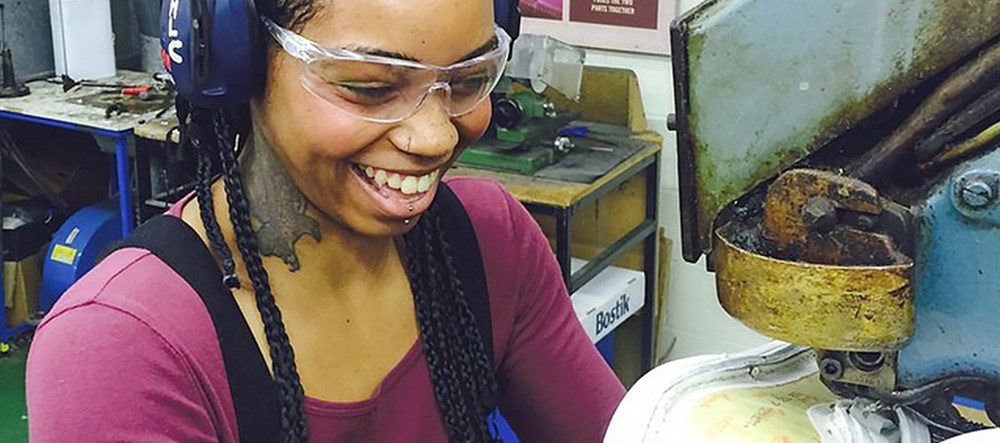 Read on to find out what it takes to do an apprenticeship at this famous British boot brand.
Name: Asha Harper
Age: 24
Job title: Footwear Production Engineer
Company: Dr. Martens Hometown: Bozeat, Northamptonshire
School subjects: 
GCSE: maths, English, science, law, statistics, food, technology, fine art 
A-Level: Fine art, film studies, English language and literature
Qualifications: National Diploma in Art and design Foundation / BA Hons Footwear Design
You can follow Asha's activities at Dr Martens on Instagram for boot designs and more: @drmartens_apprentice
Hi Asha, tell us about your job… 
As a Footwear Production Engineer, I oversee the production of the Dr. Martens boots from start to finish. I undertook an apprenticeship at Dr. Martens, which meant working closely with senior members of the team to carry out numerous operations and to make sure the boots were made to a good quality.
In the first year of my apprenticeship, I spent three months in each of the four main rooms used to make the various parts of the shoe. Each department requires a specialised set of skills and so working all over the factory means I have a broader skillset.
It's really important that my work is constantly created to a high standard as the brand has a good reputation for creating strong, reliable boots.
How does your work affect people's lives/the world around us?
I'd say working for Dr. Martens contributes to the UK's the economy. We pride ourselves on the line of boots that are made in England and it draws in customers from all over the world who want to see the shoes being made and buy a pair from the 'Made in England' range.
Part of my job has also been to promote the 'Made in England' range up and down the country, as well as our #StandForSomething campaign.
What do you like most about engineering or your job?
The best part of my job is being able to produce a shoe from start to finish. It's even more rewarding to see the products I helped to make in high street stores across the UK.
Another great benefit of my job is telling our customers what I do and how some of the Dr. Martens products are produced in our 'Made in England' range. It's great to work for Dr. Martens and to be part of Britain's fashion manufacturing industry.
How did you first become interested in engineering?
I've always loved shoes and wanted to be part of the fashion industry, but I also wanted a real hands on job, so I applied for the Dr. Martens footwear production apprenticeship. It means I can work with a brand I love, doing something I really enjoy.
What route did you take into your career?
The route that I took was to apply for the apprenticeship on the Dr. Martens website. I chose to do it this way as it meant that I'd be starting from scratch, building up on the foundation that I had laid for myself already. It also meant that I could gain new skills and I quite liked the idea of having one-on-one training. Now I've finished my apprenticeship, I am a fully-fledged member of the Dr. Martens team!
How important was studying maths and science in school for what you do now? Did you enjoy it at school?
I absolutely loved school - science practicals were my favourite. Both maths and science are equally important. I needed a good GCSE in maths to be considered for the role I work in now.
What personal qualities do you think are important for a career like yours?
It's important to be a person who thinks outside the box. This is a great skill and it's widely sought after by employers, especially in engineering. It's really important to be passionate and consistent in your work too.
There are fewer women working in engineering than men. What would you say to girls who might be interested in a career like yours?
What I would say to girls that are interested in engineering is to be confident and express their passion towards their chosen fields.
It's also good to be hardworking and somebody who is always up for a challenge, and to embrace each opportunity as it comes.
You are the only person that can chase your dreams. If you want something, don't wait for it!
What do you like to do in your spare time?
I've recently started long distance running, which keeps my mind and body active. I enjoy going to gigs too, spending time with my friends and family, going out for dinner and being creative.
If you could go back in time and be the inventor of any product, what would you choose?

If I could go back and in time and be the inventor of any product it would definitely be the sewing machine. I'd invent the post machine in particular. It is able to sew all types of fabrics in any direction and is quite easy to handle.