From bicycle spokes to engine cogs
Richard Kirkland got into engineering through his love of tinkering with mountain bikes, motorbikes, and restoring cars. He got into his current role as an electrical maintenance engineer through an apprentice with a well-known international car manufacturer...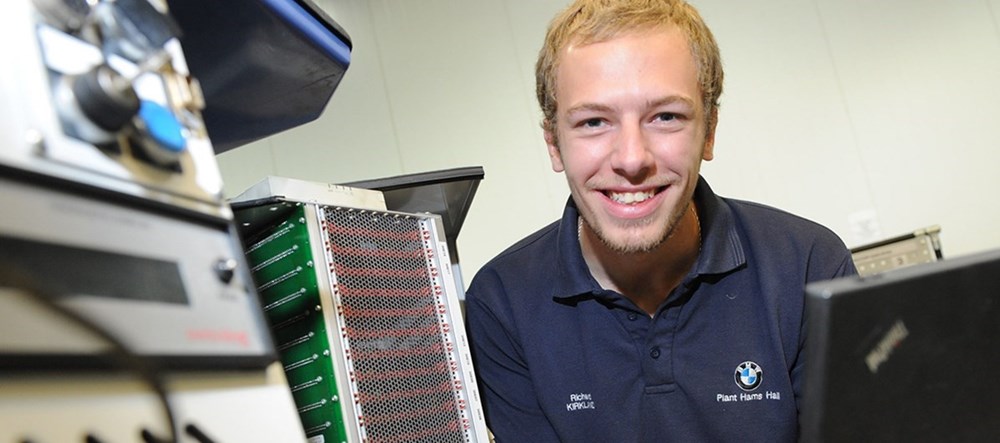 As an Electrical Maintenance Technician, Richard Kirkland is a vital link in the production chain at a major motor company.
His work helps keep the plant ticking along, ensuring the production of high quality car engines.
Tomorrow's Engineers spoke to Richard, who works at BMW Plant Hams Hall in Birmingham, to find out how his love of mountain and motor bikes led him to a career in engineering...
Name: Richard Kirkland
Age: 24 
Where do you live? Great Barr, Birmingham
Job title: Electrical Maintenance Technician

Can you tell us what you do at work?
I trained via an apprenticeship to be a Maintenance Technician. I now work as part of a team of control technicians who monitor each stage of the engine production process. I'm working with Programmable Logic Controllers (these are like computers that control the various processes on the assembly line - Ed) and diagnosing and dealing with any other issues which may arise during production.
What did you enjoy about your apprenticeship?
The work was varied, so I got a good overview of the manufacturing environment and I enjoyed meeting and working with many different people around the plant.
How long was your apprenticeship and what happened when it finished?
I started in August 2008 and completed in August 2012. I moved into a role within our machining hall in the final stages of my apprenticeship which progressed to a full technical role.
What subjects did you study at school?
I studied physics, maths, environmental science, and history up to A-level.
What first got you interested in engineering?
I became interested through sports such as mountain biking and motocross bikes - I always maintained my own bikes and I became interested in their design.
Why did you choose to do an apprenticeship instead of going to university?
I was looking for alternatives to university as I wanted to get into the workplace and start earning and didn't want to get into debt. Actually, doing a job is something that motivates me, more than just studying.
This led me to find out about advanced apprenticeships which still offered me the opportunity to get a degree level qualification in the process. Via an apprenticeship, I got to do both – work and study for my qualifications.
Did you enjoy the balance between the practical and the academic content on your apprenticeship?
I think the academic content is essential in order to have a proper technical understanding of the systems involved in manufacturing. The practical experience is also required so that your knowledge can be put into practice. The two go hand-in-hand.
How did you find out about and become involved in the apprenticeship programme?
I visited a job fair and met someone who worked at BMW Hams Hall who put me in touch with their apprentice recruitment team.
Which vehicles are you working on at the moment?
BMW Plant Hams Hall produces small, fuel efficient engines. I work in the production area where components are machined for engines powering BMW 1 Series, BMW 3 Series and MINI. I also own several vehicles which I work on and maintain myself.
And which vehicles do you like the most?
I'm a big fan of the BMW 1 Series M sport model and the new BMW 4 Series. I also like TVRs and have an interest in dedicated track cars.
What is your favourite part of your job?
I enjoy seeing a project through to conclusion and getting a pat on the back in the process.
What will your next steps be?
I aim to further progress my knowledge in the role I am currently working in and advance into new fields in the future.
What kind of personal qualities do you think are important for an engineer?
I think engineers have to be practical, logical and methodical in their work. They also need to have good communication skills and it helps to have a good sense of humour!
Have you got any thoughts about what you would like to do in the future, say in 5 years time?
In the future I aim to progress into a further technical role of some description. I have always been and remain open to travelling with the company to achieve my ambitions.
What advice would you give to people who have read about you and would like to do something similar?
Make sure you choose the necessary related subjects while still at school to give yourself a better basic understanding of the essential fundamentals. Get on the internet and go to careers fairs to find out what options are open to you and apprenticeship schemes that are available.
You need to use your own initiative and, if possible, talk to as many different people as possible to find out about different careers and jobs.
What do you like doing outside of work?
I like socialising and music. I also enjoy sport – mountain biking, motocross and other motor sports.
Do you have a favourite piece of engineering invention or something you wish you could go back in time and engineer?
If I could go back in time it would be to the days of the first motorcycles. The creativity of some of the designs is very impressive and the quality and finish is amazing considering the tools available to inventors at the time.
For more information about apprenticeships a BMW Plant Hams Hall or the wider BMW Group in the UK, see: www.bmwplanthamshall.co.uk or www.facebook.com/BmwCareersUK.