Licence to drive
After finishing school, Josh Brough decided he wanted to earn and learn at the same time. He took an apprenticeship with Siemens and now works on the electronic and electrical devices that help drive rollercoasters!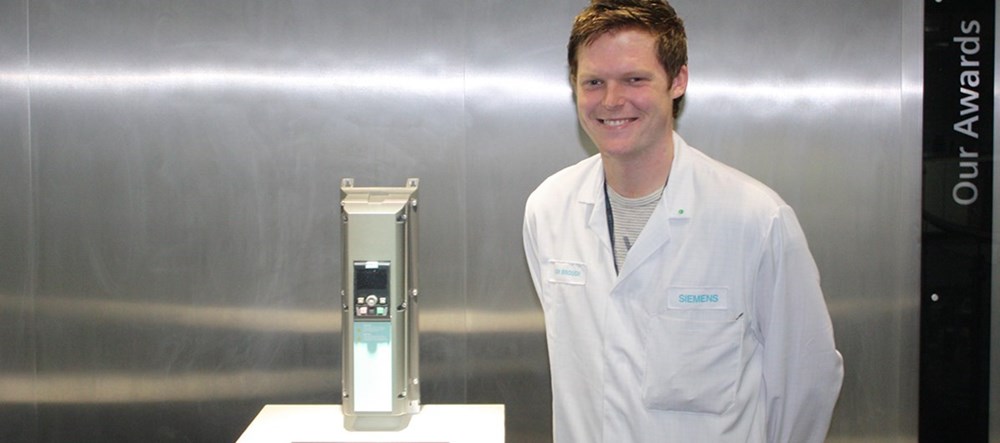 When he left school, Josh Brough decided he wanted to earn and learn at the same time.
This led him to an apprenticeship with a well-known global company with more employees than there are people living in the Bahamas!
Josh is a problem solving electrical engineer and he helps his team produce variable speed drives.
These keep all sorts of important machines moving at the right speed, from rollercoasters to the Twin Towers Memorial Fountain in New York.
We quizzed Josh on how he got onto this apprenticeship and what he enjoys about it. We also found out how he likes to entertain the residents of Cheshire with his vocal talents outside of work…
Name: Josh Brough
Age: 21
Lives: Congleton, Cheshire.
Job title: Electrical Engineer, Siemens plc, Congleton
Studies: -- GCSEs
-- BTEC National Diploma in Electrical/Electronic Engineering (subjects: maths, business studies, Programmable Logic Controllers and electronics)
-- Foundation Degree - Electrical Engineering.
What first got you interested and involved in engineering?
Many of my family members are plumbers, electricians or engineers, so from a young age I was interested in these types of jobs. When I was at school I spoke to my technology teacher. He used to be an engineer and he suggested that I would be suited to a job in engineering with my skills.
Where do you work?
I work at Siemens Congleton where we produce different types of Variable Speed Drives. These are used to move an object at a set speed, no matter the weight. For example, moving a rollercoaster at the same speed no matter how many people are on the ride.
Another example of a variable speed drive is the Twin Towers Memorial Fountain, which now operates in the area where the Twin Towers used to sit. The pumps are driven by Variable Speed Drives made in Congleton.

Tell us about your job at Siemens
My job requires me to design and implement solutions to help solve issues on our factory shop floor. This can be anything from programming sensors to designing and building small tools that we need through Computer Aided Design.
An issue that cropped up last week was that one of our machines was not recognising things placed inside it. We decided that we should install a proximity sensor that would cause an LED to light up when this happened. This ensured the machine registers what is there.
My job will change every day, the one thing that remains constant is that I will review any failure data from the previous day to help determine what issues I should be focusing on that day. By doing this it helps me plan my work to give the best possible aid to my colleagues.
What do you enjoy most about your job?
I most enjoy the problem solving side of the job and the ability to design a custom solution, complete the installation and then reflect on my work. I'm always attempting to improve the quality of work I do.
How did you get into this job?
I finished school after completing my GCSEs and when I left school I decided to give my details to a company called Connexions. Through them I was contacted frequently regarding potential apprenticeships for me, and when the opportunity to work for a major company like Siemens became available, I jumped at the chance!
Through the Siemens apprenticeship I then completed a BTEC National Diploma in Electrical/ Electronic Engineering where I studied maths, business studies, Programmable Logic Controllers and electronics. I also undertook an engineering project. I am now completing my final year of the Foundation Degree in Electrical Engineering.
What subjects did you find useful at school?
Graphic design is helpful when I am required to draw models for potential engineering solutions. Technology classes were also a great chance to get used to using the basic tools (which I now use day in and day out) such as screwdrivers and files.
How did you find an apprenticeship useful?
The apprenticeship scheme has always been the ideal route for me. When I finished my school education I was keen to begin earning money, but at the same time I wanted to further my education. An apprenticeship offered me the best of both worlds.
An apprenticeship is a great way to gain on-the-job experience whilst learning at college. By doing an apprenticeship you have the chance to apply the techniques and skills you've learnt at college or university to work.
What is it like to work at Siemens?
Working for Siemens is fantastic! There is a great working atmosphere around the factory. My colleagues are always available to give advice and to share their knowledge to help me. I feel secure and supported within my role, and all the equipment I require to do my job effectively is ready and available to me.
What personal qualities are important for being an engineer?
Good communication skills are very important. An engineer should be able to gather the required information from people they're working with. A good strategic approach to problem finding is important too.
As an engineer gains experience, they will begin to discover what solutions are available and apply their engineering techniques to solve the issues at hand.
Do you have any future career aspirations in engineering?
The great thing about being an engineer is that you will always be learning. Therefore I want to keep improving myself as an engineer as I don't want to lose the "hands on" side of the job. A "team leader" role is definitely an aspiration of mine. It would be great to have the responsibility of leadership along with the opportunity to continue improving myself as an engineer.
If you could go back in time and invent anything from the history of engineering, what would it be?
For me, one of the greatest feats of engineering was the Concord aircraft. It was something that smashed the boundaries of what we thought possible - I would have loved to be a part of that.
What do you like to do outside of work?
Outside of work I sing in a local acoustic band, performing around some of the local pubs and clubs in Congleton. I am also a huge football fan and I play in the Leek and District Sunday League each week.