Delivering amazing sculptures
From acrobatic elephants to Robbie Williams' giant head, James Solly tells us about how he's helped artists and creative people make some incredible structures through engineering!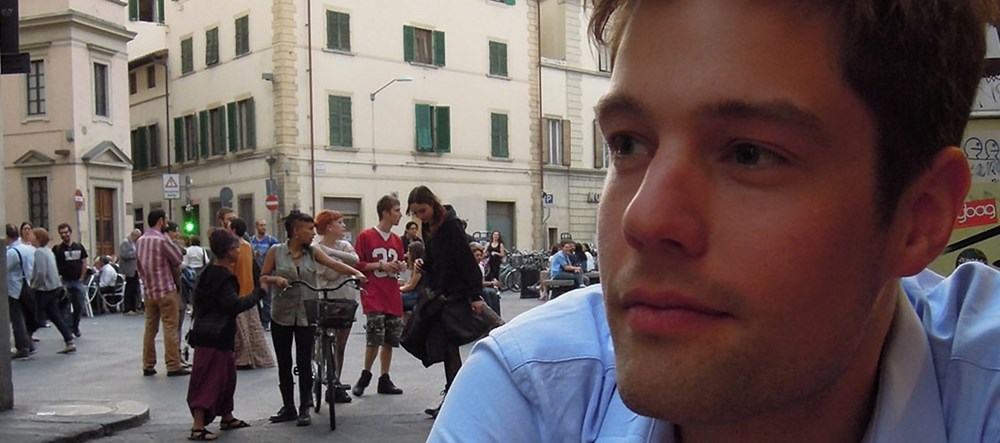 Name: James Solly
Age: 29
Job title: Senior Engineer at BuroHappold Engineering
Qualifications: MEng, CEng MICE
University and degree: University of Oxford: MEng, Engineering Science
Where do you live? London
I'm a design engineer and the best way to describe my role is that I assist creative professionals (architects, branding consultants, stage designers, product designers, sculptors and artists) with the physical realisation of their ideas, particularly when those ideas are one-off and on a large scale.
Typical products, like your phone, can be prototyped and tested to destruction. Even larger products, for example lorries, will be built identically in their thousands, so smashing a couple during their design is reasonably cost effective. If you are only building one of something expensive then we need to be sure it won't fall down or bend too much without that sort of destructive testing.
There are really four stages of work to my job, regardless of the project size or complexity:

1. Right at the start I work with other designers to come up with ideas for how we can best use different materials and shapes to fight gravity, weather and other forces without totally changing what we are setting out to achieve.

2. Then, with some rough ideas in place, I use a load of mathematics and computer analysis to decide which ones are good ideas and how much material we might need to achieve them.

3. Once I know this I can produce drawings, models and other documents to prove everything is safe and show the builders and fabricators what to make.

4. The final stage is keeping an eye on things during construction and answering any questions from the builders/fabricators as they make things.

There is a lot to do so for a big project I'm often part of a wider team that works together to achieve everything needed. Working alone is not much fun compared to working alongside friends to create a great design.

When I was younger I really didn't know what I was going to do. I loved making things (mucking around with LEGO mostly) and through school seemed to do OK at physics and maths without finding them particularly exciting. A teacher suggested I should be an engineer and it seemed to make sense to choose a career that let me actually make things. I still love that my job results in something real. I create things that exist in the physical world and can be seen and touched.

At an early point in my career I started to play with computers for 3D drawing, virtual material testing and the control of complex shapes via computer code. This became something I enjoyed and was probably better at than using the engineering skills required for "normal" buildings, so I started to get involved with more and more unusual projects.

Over the last few years I've been really lucky to be involved in really fun projects with incredibly creative people and some of those projects are described below.


The Nissan Halo
This project kept me busy for over a year and a half and let me travel around the world. With a team of three other engineers I worked on a design for a really long cantilevered sculpture that would be the centerpiece of Nissan's car show stands around the world. We made it from lots of special aluminium parts. They were light but strong and could be easily assembled and disassembled for transport. I got to work in America, China, Japan and Switzerland at multiple car shows for this project.
Dunamis Sculpture
I met a really inspiring sculptor who wanted to create this piece showing a man balancing an elephant on his hand. I started working from a little 30cm high model and ended up with a 6m tall structure that was installed in London outside Hyde Park. This piece of art has been sold to raise money for a charity that protects elephants.
Robbie Williams – Take the Crown Tour
At the moment this is probably the piece of my work that has been seen by the most people as this arena show toured around Europe for several months. We worked on the main stage and created three giant versions of Robbie's head that could drive around during the show. 
Crest – London Design Festival at the Victoria & Albert Museum, London
I really love this little sculpture because it looks so simple but hides some really clever design work. It was installed in the garden at the V&A which only has narrow doors at the entrance. Our design allowed for loads of individual panels to be bolted together then bent into shape when in position. If the cables hidden underwater had been cut then it would have sprung flat really fast! 
What's next?
Well after those projects (and many more) I'm actually heading back to university for a bit to do some research into the use of new materials and robotic fabrication in construction. I considered the idea of staying at university when I reached the end of my undergraduate master's course but I'm really glad I didn't do that. I've really enjoyed working on real projects and have learnt loads by doing them!
* James worked on these projects whilst employed at Ramboll UK and later BuroHappold Engineering.

Useful links

Find out more about design engineering from the National Careers Service
Engineering at Oxford University
Careers at BuroHappold Engineering