A new track record
Structural engineering can play a crucial role in sports by building stadiums that allow everyone can see the action. We spoke to Pete about his involvement with the Velodrome and other projects!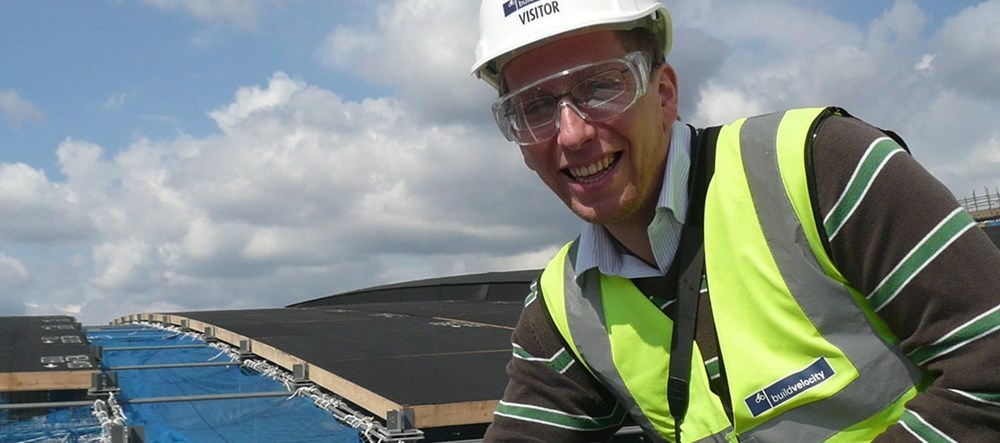 You might not know it but engineering can be a crucial factor in watching and taking part in sport.
As a structural engineer there are many different ways to make your mark, from working out how everyone can see the action in an arena, to creating world record-breaking stadium conditions.
Pete Winslow is a structural engineer who has worked on the impressive looking Velodrome, recently finished in Olympic Park, amongst other projects.
Tomorrow's Engineers spoke to Pete about the importance of fundamental maths and physics in making structures stand up and the excitement he feels when a new building goes up and design becomes reality.
Watch the video and read the full interview with Pete below.
Name: Pete Winslow
Age: 29
Job title: Senior Engineer, Expedition Engineering
What does a structural engineer do?
To me, it's about overcoming technical challenges in order to come up with better buildings, bridges and other structures. It can be anything from a suspension bridge, to a small residential project, to a structure in an aircraft or a smaller product, so it can span a huge range of subjects.
What I do here is about building design and architectural structures. I work closely with architects to support their vision and develop the best possible buildings.
What first got you interested and involved in engineering?
At GCSE level I really enjoyed maths, physics and particularly the mechanics part in maths. I took part in the Engineering Education Scheme, where groups of four or five school students could team up with a local company and tackle a little engineering problem. That turned my interest in maths from an academic, school subject into an interest in making things. 
Can you tell us about a project you've worked on?
I feel pleased and very lucky to have worked on the Velodrome as it's a pretty cool project. When I started at Expedition Engineering two-and-a-half years ago, the Velodrome was about three quarters of the way through the design process and the design of the roof was almost finalised.
I joined the engineers in the team from Expedition Engineering and Hopkins Architects to look at the details. We were trying to find out how could we make the roof work as efficiently as possible and how could we optimise the design to make it simpler to build and ensure that it was going to be well insulated, waterproof and cope with any movement.
So I got involved at quite a detailed and technical level. I started work using theory I'd learnt at university and then started visiting the site. I would be climbing on the roof to look at things being built to see how it matched the design and was working with contractors to get it finished.
Did it feel daunting to work on such a high profile project?
I felt a little bit "dropped in the deep end" as it was a lot of responsibility straight away but you're well supported within a team. The team was a mix of experienced engineers who were on hand to support less experienced engineers.
How did your team come up with the design for the stadium?
The team at Expedition Engineering and Hopkins Architects were working with Chris Hoy to find out how to make the best track for cyclists, so it isn't just an abstractly designed building, because the cyclists are at the heart of it.
One of the key points from the British cyclists was that it was important to have a crowd all the way around the track for constant cheering and support. As a cyclist, you don't want to get to the end of the track, bank round and then it all goes quiet. So we needed seats all the way round the track.
The next thing is to make sure the entire crowd can see the action. On the home straight and the back straight, where the track is flat, you can build up the seating tiers. The important factors of seeing and supporting the action and cheering on the cyclists gives you the form of the Velodrome.
And do you enjoy cycling yourself?
I cycle to work every day but I'm more of a commuter than a racer.
What is your favourite part of your job?
When the project is coming towards the end and you can see the thing you've spent so long designing rising out of the ground, there's a sense of satisfaction that you've achieved it. You can look at the Velodrome, for example, which is now finished on Olympic Park, and say "I helped with that" and it's really satisfying.
Unfortunately I don't have any tickets to see it in use but shortly afterwards it will be open to the public and you can rent a bike and cycle round. The whole team went to the opening event at the beginning of last year to see Chris Hoy, Victoria Pendleton and the rest of the team cycling round the track and it was an amazing feeling to see how all that work had resulted in this fantastic building.
What is the most challenging part of your job?
Sometimes it's difficult to balance the conflicting needs in the team. Often there is a client who has a certain idea of what they would like from a project and the architect also has a vision of what it might look like. The project manager or cost manager might impose other constraints like price, timescale or a deadline to design something. You have to work with different groups to help balance the needs of the people and the project.
Can you tell me about your education so far?
At A-Level I studied maths, physics, chemistry and further maths and took mechanics options within maths. I remember covering topics like friction and Newton's laws of motion and I still use those fundamental principles at work every day. 
After my A-Levels I chose to take a gap year and took part in The Year in Industry scheme where I worked in engineering for a chemical company in Huddersfield.
From there I went to Cambridge University and studied for a Masters in civil, structural and environmental engineering and did summer placements with different engineering companies.
After that I decided to do a PhD in structural engineering, also at Cambridge. My research was sponsored by Buro Happold, a structural engineering company, and that meant the research I was doing was focused on practical applications such as roof structures and unusual geometries.
How does your degree help you in your job?
It helps every day. The fundamental stuff that you do at the beginning of your degree is the most helpful and important because it's about a basic understanding of structural behaviour and how materials behave.
Every project is different and you learn something new but each time you go back to the fundamental mechanics and your knowledge of how materials stand up.
And then how did you get started at Expedition Engineering?
Towards the end of my PhD I was doing bits of work with Expedition Engineering who I came into contact with through one of my university PhD supervisors.
A year before graduation from my PhD I had a chat with Expedition and they said they were doing some interesting projects and invited me to come and work with them.
It's an exciting company who had just started the Velodrome as a project so I came and joined them full time.
What kind of personal qualities do you think are important for an engineer?
The first thing is the ability and desire to work in a team. Technical skills like maths are extremely important but they're not enough on their own. I don't just see the engineers sitting next to me as my team, I think it's much wider than that. The architects sitting in their office on the other side of London are in our team too, as are the draughtsmen they're working with. Different characters and different skills are part of the industry. You need to be able to work with other people, to use your technical skills and apply them in the right way.
You were runner up in Young Structural Engineer of the Year in 2010. Can you tell us about this award?
I saw this in The Structural Engineer magazine and didn't enter at first because I didn't think I would have much chance of doing well, before being encouraged to enter by my boss.
I wrote a short report on the Stavros Niarchos Foundation Cultural Centre that I'd been working on for Expedition Engineering, saying what I'd done, including calculations. I was surprised to win and it was in recognition of the project work I'd done over the previous year, as well as a pat on the back that showed I was going in the right direction.
What advice would you give to people who are interested in engineering as a career?
The big thing is to try it out. Get work experience, go on a summer placement, have a think about whether you might like to do a gap year. In my gap year after A-Levels I took part in The Year in Industry scheme where I worked in engineering for a chemical company in Huddersfield and found it a really good experience. It gave me a real flavour of what it's like to do the job and I was able to relate the maths I was doing and the technical things I went on to do at university to the real world. Write off to some companies and ask them for work experience!
Do you have a favourite piece of engineering/invention or something you wish you could go back in time and engineer?
Maybe the Eiffel Tower? That would be cool.
What do you like doing outside of work?
I like wind-surfing when the wind is up or catching a movie

Useful links

The Year in Industry Scheme