Building a port in the storm
Maria Ferreira is a Civil Engineer at DP World London Gateway, a brand new port facility. She tells us how negotiation is a useful skill to keep things running!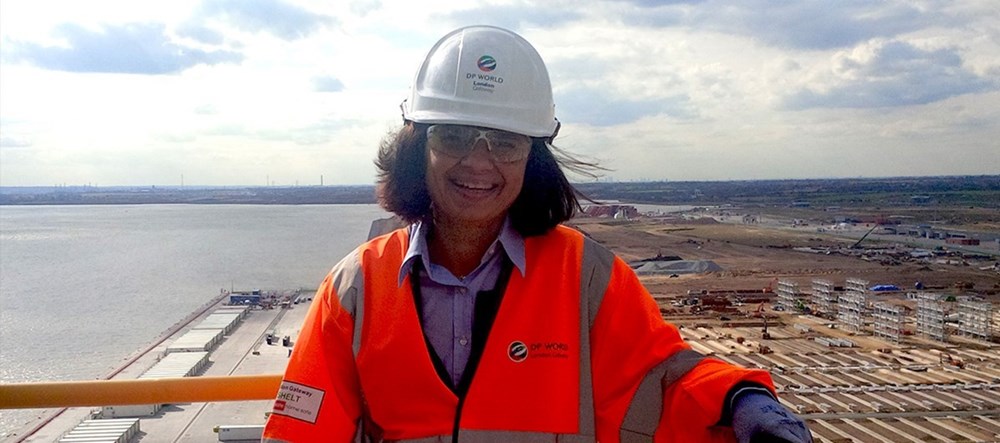 Name: Maria Clara Ferreira
Employer: DP World London Gateway
Job Title: Civil Engineer
Qualifications: MEngSt (Construction Management) University of Auckland
I joined London Gateway because it was a unique opportunity to become part of a massive new project.
Most of the Ports in the development countries are already built and operating, even though they do expand and renovate their facilities over time. I found myself very lucky for being able to join a Port that was just starting, and that was being built from scratch, with all the latest technology.
My current role, as a Civil Engineer allows me to be directly involved with the construction of the Port. Things like, roads, rail, drainage or buildings. But also very important is to keep everything running smoothly so I have to keep an eye out for anything that might be damaged or not in good order, and that could impact operations.
My biggest challenge is being able to do my work precisely in a way that minimally impacts the Port's ability to deliver containers to the customers. It requires a lot of negotiation, and most times innovative thinking on the way things are done, so the work can progress while business continues as usual.
Working for London Gateway is very rewarding. The employees come from all over the globe, so everyone feels welcomed in the company and in their teams. Different origins, different languages, different ages all pulling together to a common goal. At London Gateway people are valued and there is a big focus on keeping learning to improve and expand existing skills or to gain new ones. There are lots of opportunities to move up or to a different department.
Because everything is new, we have all the modern facilities at our disposal. We have a free Gym that we can use whenever we want. One of the things that I appreciate about London Gateway and DP World in general is the commitment to the local community with projects aiming to improve the wellbeing of the people that have become our close neighbours. Among the actions to improve the community there are lots of voluntary opportunities to get involved. Also the fact that Safety is taken very seriously makes me feel safe in the workplace.
Even though the Port was built from scratch, London Gateway goes to great lengths to ensure the impact on the environment is mitigated properly, even if it means the construction sometimes has to stop for a while so that some newts can be relocated to a new place, or even create new habitats for the birds and other wildlife that use the Thames as their nesting grounds and sanctuary.
I graduated as a Civil Engineer in Portugal, my country of origin, where I started working for a Port Authority in 1996. Even though I stayed in that same company for 16 years I was very lucky because I was able to be involved in wide array of projects with lots of different disciplines.
I love to work in the Port environment and after short stay in New Zealand, where I took the opportunity to further my education (gaining my Master's degree) I joined London Gateway in 2014.