Chocs away!
If Willy Wonka was an engineer, he might have a job like Rob Sharpley! Rob has been working to increase the amount of chocolate that his factory can produce in an energy-efficient way.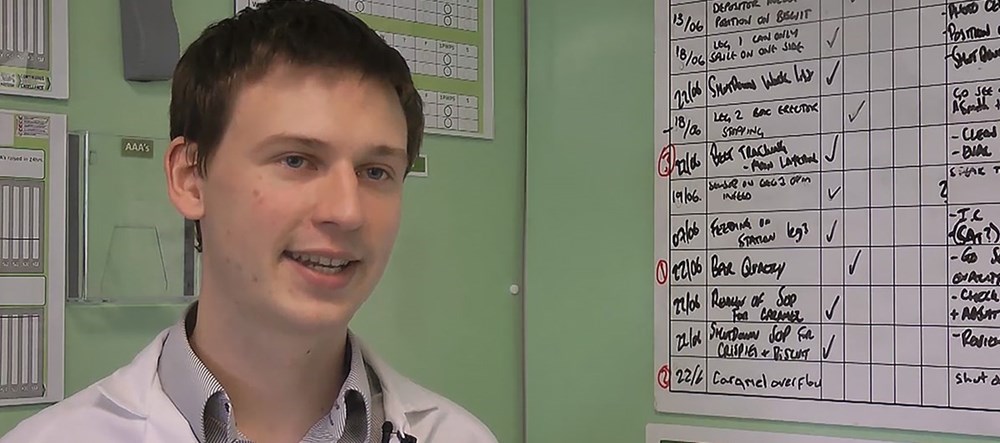 Producing chocolate for mass-consumption is a complicated, large-scale process.
You have to know about science and chemicals to cook the chocolate at the perfect temperature, maths to make sure the right amount of ingredients are used and physics to get the machinery to work efficiently. And yes, they do get to sample the chocolate they make.
Tomorrow's Engineers spoke to Rob Sharpley, who was recruited by Nestlé, rather than Willy Wonka, as a graduate engineer. He works with their machines to help save energy while increasing chocolate production for Drifter. Alongside all this he also worked on a recent project to build a giant, air-powered, Smarties fountain for The Big Bang UK Young Scientists and Engineers Fair.
Name: Rob Sharpley
Job title: Project Engineer, Nestlé
Studied: A-level: Physics, mathematics, chemistry, general studies, history (AS)
University: Master of Engineering: Mechanical and Manufacturing Engineering with Business Management, University of Warwick 
What do you do? 
I'm a graduate engineer which involves different work focusing on our various production lines here in Fawdon up in Newcastle. We work on chocolate and confectionary and we make about 40,000 tonnes of our products here in a year. There are 179 different packaged products that go out of the door, ranging from Rowntree's Fruit Pastilles to Tooty Frooties, as well as Drifter, Blue Riband and the chocolate biscuits we make here. Getting all of that perfect is a big challenge for the engineering team.
How are you involved in the chocolate production process?
I'm a manufacturing and mechanical engineer, so I focus on developing all the processes for producing chocolate and sweets, finding out any ways we can improve the efficiency or the energy use of our machines and designing solutions for that. We have a big drive for "lean engineering" to make sure all our activity adds value to the customer. There's no point in wasting time moving our chocolate and confectionary products from one room to another as the customer doesn't want to pay for that, so we design machines to be as compact, easy to use and energy efficient as possible.
How does what you do affect the product that consumers buy in the shops?
I design the machines that we use which affect the products entirely. If we alter the temperature settings it can change the taste. We have machines that can change the mixture of Fruit Pastilles to make sure customers get the right flavours in a packet. Thousands of sweets are produced every minute and it's important to make sure you've got the machines operating perfectly so that it keeps everyone working in production happy.
Tell us about your work with Drifter chocolate bars…
My work with the Drifter chocolate bar focused on increasing the amount of caramel we produce for Drifter chocolate bars. This year the Drifter line had a target of 720 bars which had previously been 600 bars per minute. We thought the old setup could achieve this but, after further calculation, I showed that it couldn't and then designed and installed a system that allowed us to double our caramel production and increase the reliability of the production line.
This meant learning all about steam usage, the cookers that we use, the chemistry behind the process and designing all the electronics so it all fitted in to the existing processes and could all be controlled. All day you're thinking about how to save money and how to make the process as effective as possible.
We also needed to make sure there was no difference in the taste as it was already at the quality and standard that we wanted so we had to design a whole system to maintain that and make sure that it was doubling the production without actually affecting the taste.
Is working in chocolate fun?
Working in chocolate is really interesting and fun. It does feel like "Charlie and the Chocolate Factory" at times but there are lots of differences between the movies and reality. We don't have Oompa Loompas dancing in rivers of chocolate and making things. We have lots of machinery keeping the chocolate at just the right temperature to make sure it comes out with the perfect taste. A few degrees difference can really affect how chocolate looks and tastes so it needs to be kept perfect all the time. There's a huge focus on the quality of chocolate, rather than some sort of magic making sugar toadstools and chocolate rivers.
Why are engineers needed in the food industry?
Engineers are in demand in the food industry all round the world and it's forecast that in the next 10 -15 years we need to replace fifty per cent of the workforce. A lot of that knowledge is hugely specialist; designing chocolate lines is actually very complex and there's a huge amount of chemistry, physics and maths involved in this engineering so there's a huge demand for engineers to get involved in the food industry all over the UK and many jobs available.
Could you talk us through how a Drifter is made in your factory?
We get our Drifter wafers from York, cut them down into exactly the right dimensions and then put them through a belt driven production line and coat the wafers in a caramel, which is where my work was focused. We then coat the caramel-covered wafers in chocolate before it goes into the packaging leg which is quite heavily automated.
To give an idea of scale, our target production for Drifter is about 720 bars coming off the line every minute and it's a lot to keep your eye on as the Drifters are coming off the line every few seconds.
How does your work save energy in this manufacturing process and reduce the impact on the environment?
We look at all the systems on site such as steam usage, refrigeration and all the different chemicals we use to keep everything warm or cool and we look at ways we can cut down their energy use. We insulate everything to make sure it's kept at the right temperature and try to make things in an exact way to ensure that we only use the minimum amount of energy and CO2.
Can you tell me about your involvement with The Big Bang UK Young Scientists and Engineers Fair?
I was asked to work on a huge science fair called The Big Bang Fair this year [held next year at ExCeL London in March 2013] to try and provide an interesting insight into the food manufacturing business. With 50,000 young people attending over the course of three days it was a huge responsibility and I managed the design of a Smarties fountain which we brought to the Fair.
We pulled together a team of all the new and young engineering graduates and we designed a four metre high Smarties fountain that used air pressure to keep replica Smarties in the air. This was so we could discuss the air pressure which is used in many of our processes as well as all the natural flavourings and ingredients used in Smarties.
We also developed a Kit Kat arcade game where the aim was to manage one of our Kit Kat production lines. We make a million Kit Kat bars a day down at our York factory and the top three high-scoring schools at The Big Bang Fair won a prize where we would go to their school for a day to show them how Kit Kat is made.
Is The Big Bang Fair a useful place for young people to learn about engineering and science?
It's really useful for kids as they can get involved and learn loads about engineering and science. They have many different companies as well as different products and machines on show.
Seeing some of the stage shows with people setting gases on fire, loud explosions and crazy bits of science and engineering show how it's all relevant to the products that you use every day. It makes it hugely interesting and you realise how science and maths are useful for where you're going in future.
When did you first become interested in engineering?
I first became interested in engineering at A-Levels; I was studying physics, chemistry and maths and was really interested in all of them. I didn't know which one I wanted to study at university so I decided to go right down the middle and study engineering. In engineering you can do bits of all of these subjects to find out which areas you're more interested in, narrowing it down until you get to the most relevant subjects to you. Starting from studying a general engineering degree I then found out that I could narrow down to the manufacturing and mechanical side and learn more about energy processes which I find very interesting.
It's incredible where you can go with an engineering degree and the different range of subjects you can come across and you could be producing products that are useful to people across the world.
How useful are science and maths your job?
It would be impossible to do my job without knowing about science and maths.  In the average chocolate production line you need to know about the chemistry, touch and the taste of the chocolate, all the physics of the machinery to get it moving as well as biological effects to make sure there's no product contamination and to make sure no-one will get into harm. There are huge amounts of science and maths at every step.
What personal qualities are important for being an engineer?
You have to be really sociable as a project engineer, able to work with and understand others. Everyone has their own ideas about what the perfect production line is and you have to take those and try and make as many people as happy as you can.
Tell us how you found out about this job and about the structure of the graduate scheme...
The Nestlé graduate scheme lasts two years with graduates joining every six months in September and March. As part of the scheme you spend 12 months in the confectionary side and then 12 months in beverages. I'm moving over to Buxton Water where we've just built a brand new £35 million factory where they need engineers to help design and install new machinery to help reduce the weight of the packaging and bottles they use.
This will save a lot of materials and preserve the environment in the area.
What do you do outside of work?
One of my main hobbies is kick-boxing, which I've done for quite a long time and I do that a few nights a week. I also like to do a lot of running and extreme sports.
  
More links
Engineering at Warwick University
The Food and Drink Federation run a campaign about food engineering and you can visit their website at www.foodengineer.co.uk to find out more about working as an engineer in food. You can also find them on Twitter with #FoodEngineering, Facebook, Tumblr and YouTube.