Going loco for cocoa
Engineers working in a chocolate factory, like Aoibheann Hurley, design, assemble and improve production lines to make great chocolate on a large scale.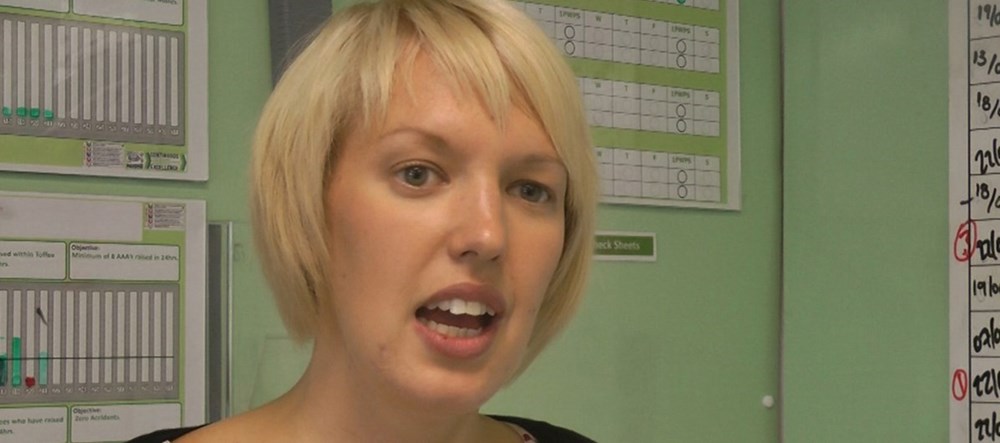 Unfortunately, as "Charlie and the Chocolate Factory" led us to believe, it doesn't involve magical chocolate rivers, lakes and waterfalls, lollipop bushes and edible pavements.
But the upside to this is that human engineers can work in this exciting industry – it's not just for Oompa Loompas. 
Aoibheann is a project engineer and she works out how to put together or improve a production line to make great chocolate on a large scale.
She munched a few Toffee Crisps to make sure they were right for consumers when she started at Nestlé before moving on to the coffee-making process, which is where she works now.
Name: Aoibheann Hurley
Job title: Project Engineer, Nestlé
Works: Tutbury, Burton On Trent
University studies: MSc in Process and Chemical Engineering, University College Cork (UCC)
Tell us about your job…
My job is quite varied and I get involved from the start of a project right through to the very end. A project is a new production line to make a new product or it might be a bit smaller, such as a small improvement or a change in a production line for to produce a slightly different flavour or packaging for a product. I manage projects in all different areas but I'm more involved in the flow and chemical side of production than the electrical or mechanical side or anything else.
Previously I worked on the Toffee Crisp project, where we moved the Toffee Crisp processing plant to the factory here in Fawdon, Newcastle from our factory in Castleford, Yorkshire. We worked on everything from designing and buying any new equipment that was needed, to planning the installation, working with the installation companies, overseeing it all being put together and then monitoring the start-up to make sure it was working correctly and achieved the efficiencies of production it was supposed to. 
Which products do you work on?
I started with Nestlé working in a coffee factory where we made Nescafé original and then I moved to Fawdon where we make a wide range of confectionary products including all of the Rowntree's sweets. Now I'm working in Tutbury to complete a new coffee factory which will be making Nescafé Gold Blend. 
How does what you do affect the products that shoppers buy?
My work has quite a big effect on what a shopper buys every day. Every packaged product that you buy in the shops is made by a production line and a lot of equipment. When that line is installed to make the product, engineers become involved in designing the equipment and thinking about how the product is going to be made, how we will put all the various machines together and how we make the [production] line work and run in the most efficient way.
We need steam to heat and to cook the caramel and chocolate in Toffee Crisp and we need cooling water after the bar's been coated in chocolate to cool it down enough to pack it straight away. There's quite a lot of technical engineering work behind the chocolate which people probably don't realise when they are eating their Toffee Crisp.
Engineers also become involved in making small changes and improvements in how the machines are working to make the process more cost effective and improve the quality of consumer products so you don't get chocolate bars that have crumbling ends or other problems. 
What does an average day at work look like?
It's quite varied – I'd have some time working from my computer, organising product orders and making sure that people are lined up to do their work over the next few days but the majority of my time is spent around the [production] line. I oversee people installing equipment, making sure everything is done safely, making sure they're putting machines in the right places and ensuring equipment is installed to the correct standard.
Why are engineers needed in the food industry?
Engineers are involved in the food industry in so many ways that you might not realise when you go to the shop. Every product on the shelves has a whole process behind it and that process was designed and installed by engineers.
Every time the price of a product is reduced or increased there will be some change behind it driven by engineers improving the production line or making it a little bit cheaper by designing or installing new equipment. In the food industry, like many other industries, conserving and not using as much energy is hugely important and engineers play a role in trying to make our processes more energy efficient.
Is it fun working in chocolate?
It's not quite "Charlie and the Chocolate Factory" but it's really rewarding to be able to put so much work into a product, go down to your local shop and see a product on the shelf that people love to eat.
Do you eat chocolate at work?
Sampling our products is actually quite a large part of the quality release process here at Fawdon so every morning there's a sensory session where members from each department sample each of the products made in the factory before final release onto the market. It's a final stamp to make sure that the product is good for sale and it's a similar situation in the coffee factory. 
How is a Toffee Crisp put together?
We put our rice crispies into a mixture of chocolate wash, made up of a lot of different ingredients blended together in a big mixer and grinder.
The mixture is then laid out on a belt, rolled flat and cut into the shape that you know. We make caramel from milk, sugar and some glucose then lay that on top before the bars go down cooling belts where they're hardened and stick together.
The bars then pass through a chocolate enrober which coats every side with chocolate. They continue to cool and harden and then are ready to go into the packaging machines.
We have three different packaging machines in our Toffee Crisp production line. Some pack single bars that you buy in the shops and some do supermarket multi-packs. We also have a Toffee Crisp biscuit which is a much smaller bar for lunch-boxes and mixes biscuit parts in with the rice crispies. Because it's different, we need to adjust the machines, sizings and recipe through codes on the computers to produce and pack the Toffee Crisp biscuit.
Can you tell me about your work with coffee?
I've just moved to Tutbury to start work on an exciting new project to build a new coffee factory with a three year timescale. We have an existing coffee factory at Tutbury which makes Dolce Gusto and Nescafé original. Nescafé Gold Blend is going to be made on the Tutbury site in future and the entire process, the pipelines and how everything functions,  all needs to be put together and formulated and I'm looking forward to the challenge over the next few years.
We need to take the coffee beans, put them through roasting, extraction, and get them into the jar and it's quite a complex process to make the volume of coffee that we drink in the UK every day. At the moment I'm looking at one specific area of coffee production, learning the process and trying to understand all the different items of equipment that we'll need so we can order the equipment, install it and be in production by our final deadline date. 
What kind of personal qualities do you think are important to be an engineer?
It's important that you're interested in the basics of maths and science and you like the technical side of things, including design, because that's fundamental to our job. On a day-to-day basis, after the technical and communication skills, being able to deal with people is so important. As a project engineer you have to be organised because you're trying to control a lot of things at once and you have to be able to deal with a variety of problems in a calm way and work out solutions. 
How did you first become interested in engineering?
I first became interested in engineering when I started to put the subjects together that I enjoyed at school like maths and science. I studied physics and chemistry but I wasn't sure what or where I wanted to work so engineering seemed like a really logical option because once you have an engineering qualification you can work anywhere in the world in a huge range of industries and businesses. I thought it would give me the flexibility to do whatever I wanted in the future and it's a very good qualification to have. 
What did you study at school?
I studied in Ireland which is slightly different to the English system. For my Leaving Certificate [equivalent to English A-levels - Ed] I studied English, Irish, French, mathematics, physics, chemistry and accounting so I've always been quite interested in numbers and technical things and chemical engineering brought a lot of that together for me.
These subjects were continued throughout my chemical engineering university degree but in more detail and with more practical elements such as studying fluids, how things flow through pipes and how you design systems. 
How important are maths and science for engineering?
Maths and science are crucial subjects to study for chemical engineering and are the basics and fundamentals of everything that you do in your day-to-day job. 
What is your favourite part of the job?
Definitely the variety and the number of different people I get to interact with. As the project goes through each stage you're dealing with a completely different group of people. You're working with your team in the early parts of the project, deciding what you want to build and how you're going to do it and then as you move on you'll work with suppliers as you buy equipment and they could potentially come from all over the world. Then in the installation phase you're overseeing large numbers of people; contractors, fitters and technicians. Finally you work with the operators who actually run the production line when you're setting it up. 
What is the structure of the graduate scheme?
There are two main areas at Nestlé UK; coffee and confectionary and the aim for your first two years with Nestlé is to have a placement in each area. I started in the coffee business for a year before moving into confectionary to work in Toffee Crisp. After two years of the graduate scheme you're moved around and they will place you in a more permanent role, which is where I am now in Tutbury, building a new coffee factory.
What do you like to do outside of work?
I like to keep active so I run a little bit, recently took up cycling and go to the gym. I just bought a Kindle for my birthday and I'm quite a reader.
Related links
Engineering at University College Cork
Nestlé jobs
Food and Drink Federation