Hair-raising chemicals
Jasmine Mucenieks takes new chemical formulations for hair care products fresh from the lab and works out the best way to produce these on a large scale. This is to make new products ready for the mass-market, so you can buy them from a shop near you!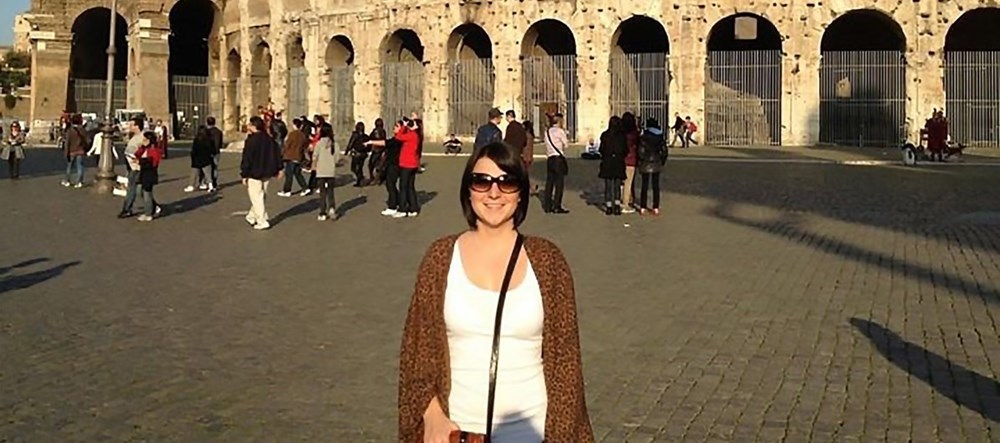 We caught up with Jasmine, in between trips flying visits abroad, to find out how she got her job and discover why chemical engineers are good at baking…
Name: Jasmine Mucenieks
Age: 25
Job: Process Development Manager at Unilever
What is a chemical engineer?
For me, a chemical engineer is someone that can take something in a beaker and scale it up so it can be made in tonnes. In my job, it's making a lab scale idea into an economic reality.
Can you tell us about your job?
I joined Unilever as a Research and Development Management Trainee about two-and-a-half years ago. My current role is Process Development Manager in the hair category and I work with other functions within Unilever such as formulation chemists and packaging engineers.
It's about taking formulations and processes from the chemists on a small scale testing size and developing it out onto a larger, production scale.
It's important to do this safely - there are things that you can do on a lab scale that pose no safety risk but when you're handling tonnes of that material it could have safety implications.
I'm with the factories up until first production so it's about helping to iron out any issues they might have when they first produce a new product. In my current job I'm not just an engineer but I also project manage, so that's a good balance for me. I'm an engineer in a factory and I also have some desk work and more strategic work.
Which products do you work on?
I work on quite a diverse range of products in the hair category including shampoo and conditioner. I also work on styling products - so anything from hairspray to male hair wax, pastes and other strange and wonderful styling products.
I work across different brands. Unilever recently acquired Alberto Culver so that means that I'm currently working on Tresemme and VO5.
And what do you enjoy about working in this area?
It's quite interesting working on shampoo and conditioner because there are many cultural variations between preferences for products in different countries and hair types on a global scale.
Also with hair-styling, it's quite fashion led so it's always changing and there's a lot of product innovation. Fashion changes so quickly and things don't stay in the market very long before the next product comes in so I'm often working on a fast-track project.
Do you use these products yourself too?
In our team we're quite passionate about trying everything we've made. If we make something on a pilot scale then we'll take it home and try it out so my bathroom is an absolute nightmare. It helps me to understand why certain steps are important to the end product and why it's important to address the consumers' needs.
What got you interested in chemical engineering?
When I was at college I took A-levels in maths, chemistry and biology. I genuinely didn't know what I wanted to do but I enjoyed maths and chemistry so I looked for a course that incorporated those two subject areas and now have a Masters in Chemical Engineering from the University of Leeds.
I also really wanted to do a vocational course as I didn't want to finish university and still have no idea of what career I could have. So, when I found chemical engineering it ticked all of those boxes. I knew it was quite practical and it involved a lot of maths and luckily I enjoyed it.
What did you enjoy about it?
It was quite varied. I enjoyed plant design, so designing equipment and understanding how it works. I also enjoyed an economics module about project management and finance. I use that quite a lot now because much of my job is project management.
When I first joined Unilever after my degree I completed a series of placements in different areas of the business. Things that I learnt at university, such as having to work with groups of people and setting goals – I use those all the time now.
How useful are maths and chemistry to what you do now?
Maths was essential – a lot of my degree involved designing processes and equipment for chemical engineering, and to do that you need to use maths. The chemistry aspect of the processes here is mainly done by chemists in the lab and that's passed on to me to upscale. Sometimes when we have problems we have to get involved in the chemistry of the processes so it's helpful then.
Can you tell us about your experiences on the graduate scheme?
It's quite a rigorous process to get onto the graduate schemes. They take 20-24 people each year across all the functions - Finance, Supply Chain, Research and Development, Human Resources and IT. I completed an online application form, followed by an aptitude test, then a telephone interview and finally spent a day doing tests at an assessment centre.
The scheme itself was made up of four placements. I started off in the deodorant category and then worked in packaging. I then worked in Process Science, which was undertaking real research into processes to develop products.
After that I had a placement in marketing, which was valuable to me as an engineer and helped me understand how the business works as a whole. My final placement was as a Project Engineer, so I was working as a chemical engineer in a launch factory.
So that was four different categories with four different products and technologies in four different areas of the business.
That's a lot of to pack into a short space of time …
It's quite challenging because the placements only last six months. It's quite a short time to deliver, so you have to get up to speed quite quickly, but it was really rewarding, I learnt a lot about myself and improved my technical knowledge and skills. I also had a wide range of experiences which helped me target the area of the business I wanted to work in, which was hair.
Could you describe an average day in your job?
During an average day at my home site I spend about half my time in meetings, organising factory trials or product launches. The other half is spent on the pilot plant working on understanding processes.
I travel quite a lot. When I'm away, usually I'm at a factory trying to understand how our processes work with operators or trialling a process to make a product.
What's your favourite part of your job?
I'm really delivery focused and I enjoy making things happen as part of a team and working with a diverse group of people. Another bit that I enjoy is when I go into a supermarket and walk down the hair-care aisle and see something that I've worked on and helped to deliver.
What's the most challenging part of your job?
I enjoy speaking to people in different time zones and cultural differences, but it can be quite challenging to communicate effectively sometimes.
Do you have any advice for someone who would like to do a similar job to you?
I've been lucky that I've been provided with an opportunity to try a lot of different things in my career. So you should take every opportunity you get to try something different because, even if you don't enjoy it, it can shape decisions you make about your career at a later date.
I would advise people to do something they enjoy because I believe in order to be successful you need to be passionate about what you do.
Traditionally many women haven't gone into engineering, is it a career that women are well suited to?
Yes, traditionally men have gone into engineering but I don't see why there aren't more women working in the field. I haven't had any negative experiences.
And what do you enjoy doing outside of work?
I play cello for an amateur orchestra. We have regular rehearsals and we do concerts for charity. I like this because it's something very different to what I do at work and I can meet new friends.
I like socialising with friends and also baking. I'm forever baking for my team at work which they seem to enjoy.
Is baking like chemical engineering?
I think baking is really process driven, without sounding geeky. I always bake using electric whisks which is almost like our power tools. I think it's an engineering thing. We like making things and that includes baking!
Links and further information
Apprenticeships and graduate careers at Unilever
For further information visit whynotchemeng, a site run by the Institution of Chemical Engineers