Patrolling for petroleum
We use energy for electricity and fuel every day and Hani Baluch helps power all our energy needs. Hani Baluch works out in the field as a graduate petroleum engineer for BP, putting safety procedures into place to maximise oil and gas production from wells.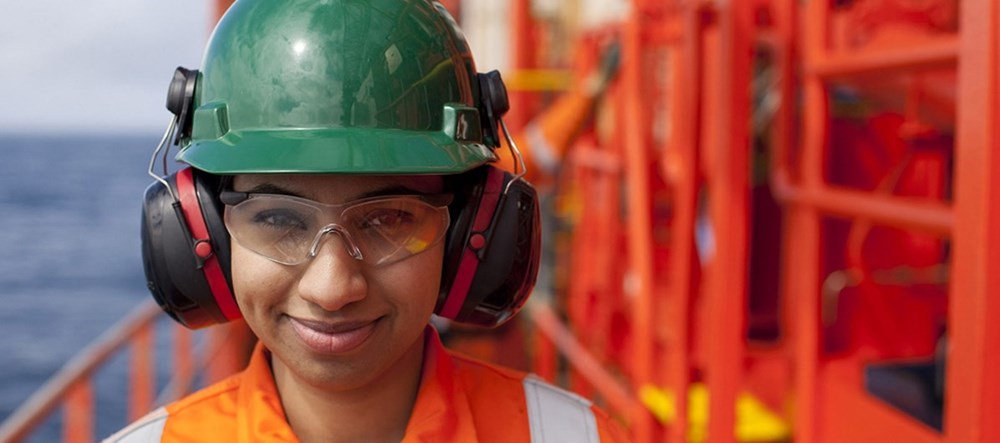 We use energy in the form of electricity or fuel every day for so many different purposes that we might take it for granted.
From turning on the television, to driving to the supermarket and heating our homes, there's an engineer helping produce two important raw materials for energy - oil and gas.
Hani Baluch works out in the field as a graduate petroleum engineer for BP, putting safety procedures into place to maximise oil and gas production from wells. Hani currently lives in Amarillo, Texas - she "shows us the way" to become a petroleum engineer and tells us about the exciting engineering challenges in getting hold of new fuel from across the world! 
Name: Hani Baluch
Age: 25
Job title: Petroleum Engineer at BP
Studies at A-level and university: Biology, Chemistry, Geography and Mathematics
University degree: Chemical Engineering (MEng) at Imperial College London with a year abroad at Carnegie Mellon University in the US.
Where do you live? Amarillo, Texas, USA
What does your company, British Petroleum, do?
BP is one of the world's largest international oil and gas companies. The company provides fuel for transportation, energy for heat and
light, retail services and petrochemical products for everyday items. We operate in over 80 countries, employing more than 85,000 people worldwide and export UK technology and knowledge across the globe.
Tell us about your job:
I am a field-based engineer on the Challenge Programme, BP's graduate scheme. I work in BP's Upstream division which is responsible for searching for potential oil and gas fields, and then drilling the wells that bring the oil and gas to the surface.
I am currently working on the "Anadarko basin", a group of around 1,200 oil and gas wells located in Texas. I work in a team to maximise how much oil and gas is safely produced. I try to go to the site locations as often as possible as I enjoy being on site and learn a great deal by being there.
You've worked aboard a "floating production, storage and offloading unit" – what is that?
A floating production, storage and offloading (FPSO) unit is a floating vessel used to process oil and gas produced from nearby wells on the seabed. It then stores the processed oil and gas until it can be offloaded onto a tanker to be sold. I worked on the Foinaven FPSO, west of Shetland, and my work helped maximise oil and gas production from the wells and helped improve our understanding of the oil and gas reservoirs in the rock formations we were working with in Foinaven.
The FPSO is out at sea so I would usually spend two weeks out there, travelling there by a helicopter which could only land or take-off in relatively calm waters.
I enjoyed this operational role a great deal and learnt a lot. It was sometimes stressful but also exciting as I had to think on my feet and make decisions.
How does your work affect people's lives and the world around us?
Everybody uses energy on a daily basis, often without even realising it, and I believe it's sometimes taken for granted. Energy is used for everything, from turning on a light, to switching on the television or driving to the supermarket. We often forget about the work that allows us to have these products and I love that my work allows people everywhere to have access to energy in their daily lives.
What is it like working at BP?
I have found my colleagues are always willing to share their experiences with me and provide support, which is fantastic. Graduate employees are given a great amount of responsibility from day one and I think it's great that BP empowers its staff.
To find out what it's really like at BP I would recommend that university students studying a science, technology, engineering or maths-related degree enter the BP Ultimate Field Trip Competition (check the website for opening dates and what you need to do to enter - Ed).  Students work in teams of three to find a solution to a real-life energy challenge. You win a two week field trip at selected BP operations, and a guaranteed interview for a graduate role or internship at BP, which I think is amazing!
How did you get your job?
BP always had a big presence at my university and did a great job of speaking with students about career opportunities with the company. I applied for a job at BP through their website at the beginning of my fourth year at university. I found out I'd been successful just before Christmas which was the best present ever!
What personal qualities are important for being an engineer?
It's important to be able to solve problems and think logically. Companies like BP look for the ability to work in a team and adapt easily to different situations. It's also important to have great communication skills and attention to detail combined with the ability to keep an eye on the bigger picture.
Can you tell us more about the Challenge Programme?
The Challenge Programme is BP's graduate scheme and it gives a well-rounded introduction to the company by giving new recruits the opportunity to experience different roles at BP. There is huge focus on developing the technical skills of graduates through training and gaining experience in the field. The training I have received so far has been very important to my development and I've had countless opportunities to apply what I've learnt directly to my role as a petroleum engineer.
How important were your school subjects for what you do now?
At school, my favourite subject was chemistry. The practical skills and classroom work inspired me to begin exploring how science can improve our lives. I've been able to apply my knowledge of chemical experiments from a secondary school laboratory to real life projects, which is just amazing. My interest in chemistry and maths led me to pursue a chemical engineering degree and I would say these are two really important subjects to study if you want a career in the energy industry.
What did you enjoy about studying at university?
I thoroughly enjoyed my time at university. It was very challenging and sometimes stressful, but it really helped me develop good communication skills and helped improve my confidence. We also had over fifteen nationalities in the chemical engineering class of 2010 at Imperial College London and I really liked studying with a mixed group of people!
What advice would you give to people who are interested in working in a similar job to you?
The oil and gas industry gives people the freedom to succeed in an exciting and dynamic environment working with a great team of people on important energy issues. There are huge challenges and endless opportunities and I have never looked back!
Petroleum engineering is an exciting field that presents interesting challenges and endless opportunities and I would definitely recommend it to young graduates.
If you could go back in time, what major invention would you want to create?
I would have liked to have invented the light bulb or discovered penicillin - two very different and important products that have greatly influenced our lives.
What do you enjoy doing in your spare time?
I love reading and travelling.