Behind the music
Behind every great gig or festival like Glastonbury, there are people working to make sure the audience hear the band in the best possible way. Some of these people are called live sound engineers.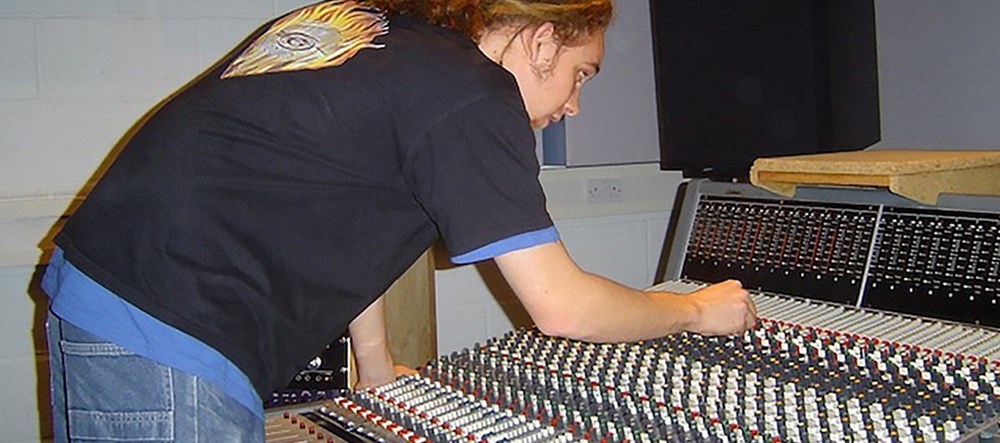 Live sound engineers make use of a core technical knowledge as well as good contacts and a love of music to get-ahead in the job. We spoke to one – Steve Bunting – to find out what's involved.
Can you explain what you do?
 
I can mostly be found mixing sound for bands, either front-of-house (what the audience hears) or monitors (what the band hears). Mixing front-of-house involves making the instruments on stage sound how the artist expects and blending them together at the right levels. Mixing monitors is very similar but requires providing different mixes for each performer so they can hear what they need to hear at the right levels, either by a floor monitor or in-ear monitors (personal headphones).
My job can also entail setting up equipment, aligning PA systems, looking after guest engineers with other bands, patch master (making sure everything on stage is plugged into the right place all the time), prepping the gear or almost anything else related to live sound! However, contrary to popular opinion, I am not a DJ!
Could you explain for us your first steps on the career ladder in sound?
 
I have been playing music all my life, starting with the electronic organ at the age of 6 and taking up the bass guitar in secondary school. I was the one in the band who learned how to use the school recording studio and PA equipment, out of necessity! I realised that it was something that I really enjoyed so I went to university to study it. Within the first week I was at university, I joined the student's union stage crew, who run all the events in the union as volunteers. I mixed loads of bands. The combination of my degree and live sound experience meant that when I left university I got my first job and went freelance almost immediately through a contact gained from the stage crew.
Can you tell us what you studied at University that led to such a cool job?
 
I studied the Tonmeister (Music & Sound Recording) course at the University of Surrey in Guildford. The course is a Bachelor of Music, but is only 25% music with the other 75% being technical. The course focuses on studio sound and does not have any facilities for live sound, but the theory and techniques I learnt were invaluable in combination with my experience in the student's union.
What subjects did you take at A-level?
 
I took Maths, Physics and Music Technology at A-level, with an AS in Further Maths.
How did you manage to land the job you do now?
 
Most sound engineers are freelance as companies rarely need to employ full-time engineers year-round. As a consequence, I do not have one single job, but my principal client at present, like most of my work, came to me by word of mouth. While working for a PA company on tour, I got on so well with the band that they hired me directly. One of the members of this band also stands-in for my current client occasionally and got me in when they were in need of a monitor engineer. After a couple of months, I was their first choice.
Can you talk us through the kind of involvement you have on a project working in sound?
 
When working with a band, my involvement starts once the band is booked and confirmed with 'advancing the show'. This involves emailing or speaking to a technical contact at the venue or the company supplying the equipment (for us to make sure that we get adequate equipment to enable us to do a good show). It may also involve co-ordinating any radio frequencies (microphones or in-ear monitors) or channel list changes to fit in with any other bands that are performing.
On site, the band's other touring technicians and myself will go to the venue before the band, set the stage and make sure everything is as it should be. We must liaise with local technicians who supply and set-up the equipment so that when the band turn up for a soundcheck, everything works and goes smoothly so no one is hanging around for too long.
During the soundcheck, I set-up each microphone individually and build mixes to the performer's specification. During the show, I continually monitor and adjust the mixes to make sure they are consistent and nothing changes or breaks. This could be as simple as doing nothing, or as complex as managing ever-changing levels, equalisation (tone) and reverb (echo).
What technology do you work with and what works best for the results you want?
 
By the very nature of the job, lots of technology is used. We use analogue and digital consoles, radio microphones and in-ear monitors, amplifiers, loudspeakers etc. The list is endless!
The biggest debate in the industry at the moment is the difference between analogue and digital consoles. Analogue consoles have been around for years and everyone knows how to use them, but they're big, heavy and often require lots of additional 'outboard' equipment. Digital consoles are a relative newcomer and have a smaller footprint and many more features, but many engineers complain that they don't sound as good as analogue consoles. In some ways it can be likened to vinyl vs CD. However, digital consoles have made my life much easier as a particular band's show can be stored on a USB stick as a computer file and can be loaded into any console (of the same make/model) anywhere in the world, reducing set-up time and increasing consistency from gig-to-gig hugely.
Is there a particular project you are proud to have worked on?
 
I am proud to have worked directly with some world-class talent in my short time in the job including Boy George, Kim Wilde, The Original Wailers and the biggest shows in the world including the Glastonbury Festival and The Brit Awards.
What sort of working environment do you have, doing what you do?
 
My working environment can be literally anything! I have done gigs in the Austrian Alps in the middle of December at -20 degrees Celsius, on the beach in Brazil, on remote islands in the Indian Ocean, in the comfort of a theatre round the corner from my house or in Park Lane hotels. Wherever you can hold a concert, I'll be there! The very nature of the job means you spend a lot of time travelling, and a lot of the time you end up spending lots of time waiting around for a rapid flurry of activity. Touring is extremely hard work and being away from friends and family for so long, you work out very quickly whether it's for you or not!
Do you have any advice for young people wanting to work as an engineer in sound?
 
There is no set path to get into the industry so it really is a way of whatever works best for you. I was very academic, so doing a degree was the natural path to choose but this isn't the same for everyone. Remember that even if you do the best degree in the world, you will not walk into a job mixing U2, you will still need real-world experience before you get hired to mix. As the industry works almost exclusively on word of mouth, you need to maintain contacts and make sure people who have the jobs know who you are.
What activities in your spare time interest you?
 
I love to cook, which comes as a direct result of eating junk food on the road for the first year or so of my career! I also enjoy photography and swimming, which tend to fit in with my lifestyle rather well.
You can learn more about Steve at his website stevebunting.com and totalproaudio.com.
Interesting links
Courses
Short courses, nationwide open days and many more online education choices at the SAE Institute
The Music and Sound Recording (Tonmeister) programme at the University of Surrey
Summer courses, fulltime courses, master classes at the London School of Sound
Accredited by the British Accreditation Council and Apple, SSR courses
Point Blank voted "Best Music Production & DJ College" six times at the annual T-Scan Awards
BSc (Hons) Audio Technology at University of Salford
Short courses, diplomas, degrees and more at dBs Music
See more sound engineering courses at Hot Courses here
Blogs and Forums
Recording.org Forum
Sound on Sound Forum

Societies
The Audio Engineering Society UK
The Music Producers' Guild represents the interests of everyone working in the UK music sector producing and recording facilities and various professions.