Tunnel vision
Regina's an apprentice tunnelling engineer working on London's Crossrail. London's a busy place and it needs Europe's largest current construction project to keep it running smoothly! Regina took us 30 metres underground to tell us more.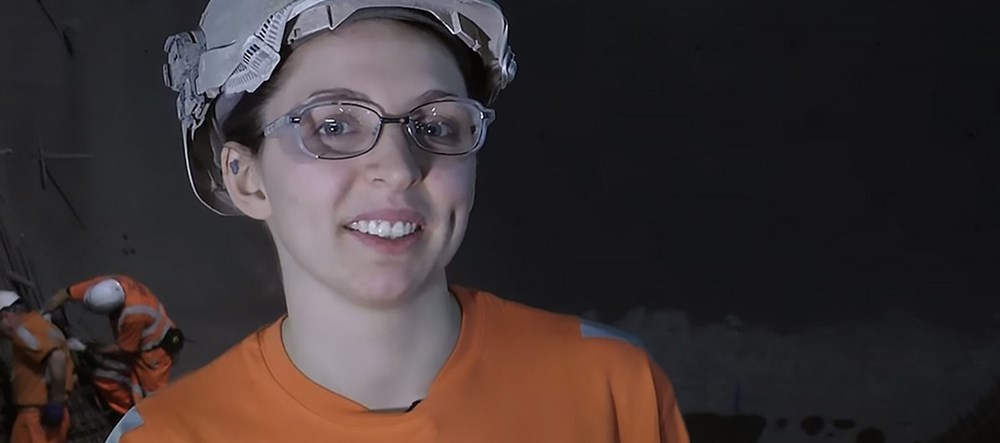 Regina's a trainee tunnelling engineer working on London's Crossrail.
It's Europe's largest current construction project, with more than 10,000 people working on 45 construction sites to create 42km of new train tunnels under the city.
There are around 8.3 million people living in London and half of those people travel on London Underground every day. With the population of the city estimated to grow to 10 million by 2030, it's a much-needed new addition to London's underground train network. It's engineers making sure London's transport remains comfortable, safe and not over-crowded.
Regina's an apprentice, which means she earns and learns while working. Tomorrow's Engineers went deep down under London to find out more about how she's helping Londoners travel to and from work, as well as to dinner parties.
Name: Regina Tumblepot
Job title: Trainee Engineer (apprentice)
Company: Morgan Sindall
GCSE subjects: English language, mathematics, business studies, information studies, English literature, science double award, German, agriculture and horticulture, D&T textiles technology, religious studies.
College studies: BTEC Level 3, Construction and the Built Environment, South Thames College
We're deep underneath London. Why are we here?
We're currently 30 metres underground, building the platform tunnels at Whitechapel station in east London for Crossrail, which is the biggest infrastructure project currently under construction in Europe. 
What are you doing on the project?
I'm a trainee tunnelling engineer and we're working on sprayed concrete lined tunnels. How these are made is that drivers excavate the clay under the ground to create the shape of the tunnels and I tell them how much clay they have to excavate. Then I tell the people who come in how much concrete needs to be sprayed on top of that to reinforce the permanent shape of the tunnels.
When we started here it was just a car park so I was involved in the whole site set-up and making sure all the walls and foundations were in the right place.
How does your work affect people's lives?
When the project is completed it's going to be fantastic. Tube trains in London are famous for being busy but this high-speed link from the east to the west of London will have much bigger trains. It will ease the congestion and make everyone's lives a lot more comfortable when they're travelling to and from work or going out for dinner parties!
(It will link Maidenhead and Heathrow, to the west of London, to Shenfield and Abbey Wood, to the east of London, via 21 km of new tunnels under central London. It will also add space for 10% extra passengers on London Underground – Ed.)
What inspired you to become an engineer?
I became interested in engineering because of my love of maths and science. Also, I really enjoyed solving problems but didn't realise when I was at school that engineering was a career choice I could take. It's the perfect job for someone who enjoys maths and science, they should definitely consider engineering.
There are many different routes into engineering. Which one did you take and why?
I decided to take the apprenticeship route into engineering. The main reason for this is because I studied manufacturing engineering at college before I started my current course. I really enjoyed this but two years sat behind a desk was enough for me. I couldn't stand the idea of going to university for three or four years - I wanted to be out there and working "hands-on", so I decided to go for an apprenticeship.
I get to do the work every day and learn "on-the-job" from other people, but I also get sent to college one day per week. The background knowledge of education and the experience together really complement each other.
There are fewer girls working in engineering than men. What would you say to girls who think they might be interested in a career in engineering?
Any girls who are interested in any engineering or science subjects should definitely go for it. It's such an interesting job and it's not just for boys. I've been working in this job for two years and I'm treated as an equal. There's absolutely nothing to be afraid of and no reason why you shouldn't do it.
I hope that more women get into engineering because I think it's a really great career.
What do you do in your spare time?
I enjoy listening to a huge variety of music and I enjoy going to shows in both England and Europe. I also play flute, piano and am currently learning accordion. I enjoy volunteering at a local archaeology site in Kent over the summer periods. I also like to spend time, knitting, sewing, baking, gardening, reading and going to the theatre.
Useful links
Find out more about apprenticeships
Find out more about Crossrail on their fact-filled website
Careers at Morgan Sindall