Working in construction
Rachel Nixon tells us her four favourite things about her job.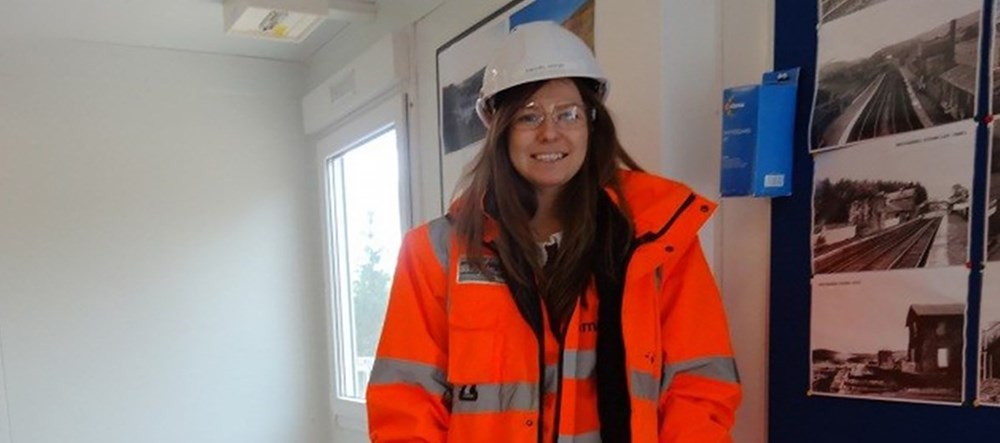 Name: Rachel Nixon
Age: 21
Job Title: Apprentice Quantity Surveyor
Qualifications: 9 GCSE's A*-C, A Levels in Maths, Business & Law (grade B), BTEC Level 3 National Diploma in Construction and the Built Environment
Employer: BAM Nuttall
Where you live: all over the UK. Currently West Midlands, originally from Newcastle.
My dress-up outfits have changed quite significantly in the last 15 years, because when I was little all I wanted to be was a princess. If someone told me then I'd end up working in construction I would have cried at the thought of mud.

I'd never even contemplated a career in engineering, but when it came to the end of sixth form all I knew was I wanted a car. A really nice car. An Aston Martin DB9 to be precise, so I needed a well-paying job doing something I was good at. I was decent enough at maths, there were many who were better… But here I am - the only female sat in the office under the M6!

I like typical girly things like shopping, make up and rubbish reality TV, so having no one to discuss last night's Love Island with can be frustrating at times, but here's just a few reasons I wouldn't change it for the world:
1. It's so rewarding
Think about it. People travel thousands of miles to see the Pyramids, the Great Wall of China, the Empire State Building, even Buckingham Palace! These iconic landmarks wouldn't be there without engineers.

Last year I was part of the team that constructed the Borders Railway and ok, so it's not the Eiffel Tower, but it is the longest new domestic railway to be built in over 100 years in the UK, and to think thousands of people will be using something every day that I was a part of creating is just incredible.
Civil engineering is particularly rewarding because every project has the sole purpose of improving the convenience of people's lives. Knowing that what I have done will help make someone's life that little bit easier is pretty pleasing.
2. Travelling
This is a big plus; I love being on the move, seeing new places, meeting new people. In the last year alone I have lived in Edinburgh, Newcastle and Birmingham. I know they aren't the most exotic of places, but the world is developing at a faster rate than ever before. The demand for innovative engineering is global.

The increase in natural disasters in Asia has seen the need for construction of infrastructure able to withstand the most volatile conditions. Fast growing economies in places like Dubai mean that money is being thrown at the grandest engineering projects ever seen! So who knows where I could be in the future? Somewhere I can have the roof down on my DB9 please…
3. This isn't a man's world
Since the dawn of time the stereotype has been that construction is for men. That's still what industry statistics show but this isn't such a bad thing. In fact it's quite the opposite, as I have taken advantage of several opportunities specifically aimed at women. I have become a STEM ambassador and my primary goal is to introduce jobs in the industry to girls because when I was at school, no one did that for me.

There are regular networking events for the women in the company which has been a great way for us to mingle and make friends. I'm not a feminist, but I do believe that anything a man can do a woman can do equally as well. I'm on a mission to prove this through my job and I'd encourage like-minded girls to do the same.
4. There's never a dull day
I'm an active person and like variety so a 9-5 desk job just wouldn't suit me. That's why I love what I do: it's a great mix between being out on site getting involved in the mucky business and being in the office putting what I'm good at into practice.
Every morning I never know what unexpected challenges I will face in the day. I've seen everything - from horses turning up on the construction site to landslips causing monumental damage. Over half of the money construction companies make comes from change which I as a Quantity Surveyor have the job of pricing. So as you can imagine, l never have nothing to do.
I challenge anyone to find an industry as fast-paced, interesting and diverse as engineering. I'd encourage anyone to consider a career in it no matter what their gender. Whatever your strengths may be there will be an engineering role for you.
Useful links:
BAM Nuttall