Flying to the future
Daniel Newman is a graduate engineer at Rolls-Royce, working in the Aerospace sector.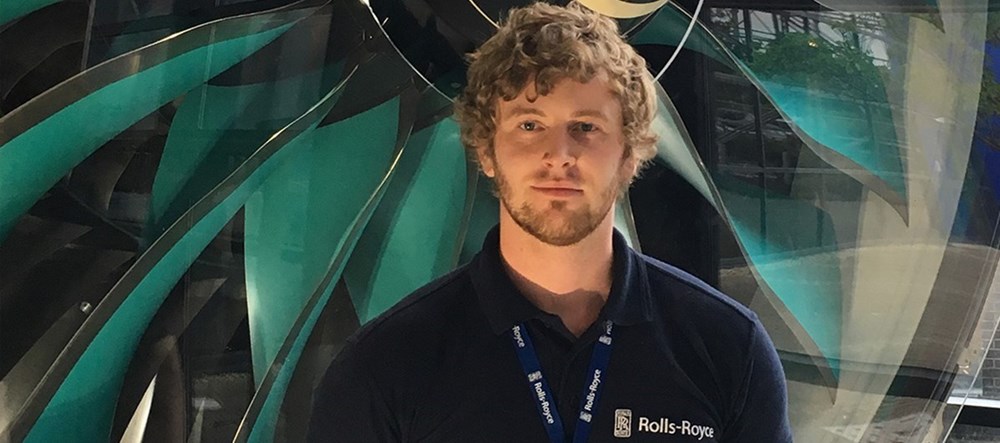 Name: Daniel James Newman
Age: 25
Job title: Graduate Engineer
Qualifications: Master's Degree in Aeronautical Engineering MEng
Employer: Rolls-Royce Plc
Where you live: Cheslyn Hay, Staffordshire
Tell us about your job. What do you do?
For my role I get the opportunity to undertake a number of different jobs across the Aerospace sector as part of a year and a half graduate scheme. This allows me to try lots of new things, learn about different areas of the company, and find what it is I'm really interested in.
What does an average day look like for you?
The beauty of the graduate scheme is that I get to explore lots of different areas of the company. I have had jobs which have allowed me to work with company leaders, visiting customers, and helping them make the big decisions for the company. Other roles I have had to use my engineering skills to perform technical analysis in areas such as such as design, aerodynamics, thermals and stress to produce new and improved components for the next generation of airplane engines.
How does your work affect people's lives/the world around us?
Each day, thousands of people fly on airplanes that are powered by our RR engines. They are the heart of the aircraft, and allow us to explore all across the world.
As more and more people want to travel, the technology in RR engines is becoming increasingly important. To make engines that are more efficient, use less fuel, produce less noise, and create lower emissions; large amounts of money is being spent on researching and developing new technology. The need for this new technology is at an all-time high, and the aerospace industry is transforming the way we will connect with the future world. Imagine in 30 years time, flying on aircraft that look nothing like today's planes... and imagine how you would feel knowing you played a part in designing it.
How did you first become interested in engineering/what inspired you to be an engineer?
From very young I always had a fascination to find out how things worked, which would often lead to me taking things apart or experimenting. Things like steam trains, and airplanes always fascinated me. So the engineering seed what planted at a young age. This being said, it wasn't until my later teen years where I started to take an interest in physics and maths that I decided exactly which path I wanted to take, and which engineering discipline interested me the most.
There are a number of different routes you can take into a career in engineering. What route did you take (and why)?
After school, I chose to stay on to study maths and physics at A-Level, as I was keen to understand the deeper knowledge of the two disciplines that academia could give me. With the success of my A-Levels I was able to attend University where I gained a Master's degree in Aeronautical Engineering.
Although there are many routes into engineering, I felt my degree allowed me to gain a broad knowledge of a number of different disciplines, such as aerodynamics, noise control, mechanics, which would give me the technical understanding to choose a career in any of this broad range of subjects. Alongside this being involved with research and getting to work with brand new cutting edge technologies was fascinating, and gave me a strong passion for engineering innovation.
How important was studying maths and science in school for what you do now?
Maths and physics for me came in extremely useful, and without them I wouldn't be able to perform the job I have now. At school these subjects seemed almost pointless and sometimes difficult to understand. It wasn't until I studied them further and learnt to apply them that I realised just how much everything in our lives relies on them; everything from the cars we drive to the readily available supply of electricity in our homes.
There are fewer women working in engineering than men? What would you say to girls who might be interested in a career in engineering?
There is a common misconception that engineering just involves getting covered in grease and hitting things with spanners. This couldn't be any further from the case, with most high tech engineering work, and big decisions taking place in offices and meeting rooms.
The opportunities within engineering are limitless, and extremely rewarding to all people regardless of gender. One of the best things about working for a company like Rolls-Royce is that it has a very diverse work force, where people are judged by the quality of their engineering, and not by gender or background. I work with woman that are world leading experts in their field, and looked to for advice and decision making from across the company. My colleagues are the perfect role models and show why girls should aspire to become anything they want.
What do you like most about engineering?
Being at the forefront of technology, and being able to solve deep and technical problems.
What do you like to do in your spare time?
In my spare time I enjoy keeping active, and I enjoy going to the gym and playing sports. I am also in a band so between practices and weekend gigs it keeps me busy.
What personal qualities are important for being an engineer?
Having an open and curious mind. Retaining a passion for the area of engineering you are in, and working well with other engineers to deliver excellent products.
If you could go back in time and invent anything, what would it be?
For me it would have to the first aircraft. The Wright Brothers created something that people said could not be done, and were the first ones to ever experience what it feels like to fly.
What advice would you give a young person who was considering engineering as a future career?
Research what careers are available in engineering, and apply for work experience in a few companies. Not only will this give you an idea of what an engineering career would look like, it will also speak volumes when you apply for jobs in future. Good Luck!