Buildings, bridges, structures and strength
Roma Agrawal is a structural engineer working at WSP Group in London. She's won a national award and worked on one of the most attention-catching buildings in the London skyline.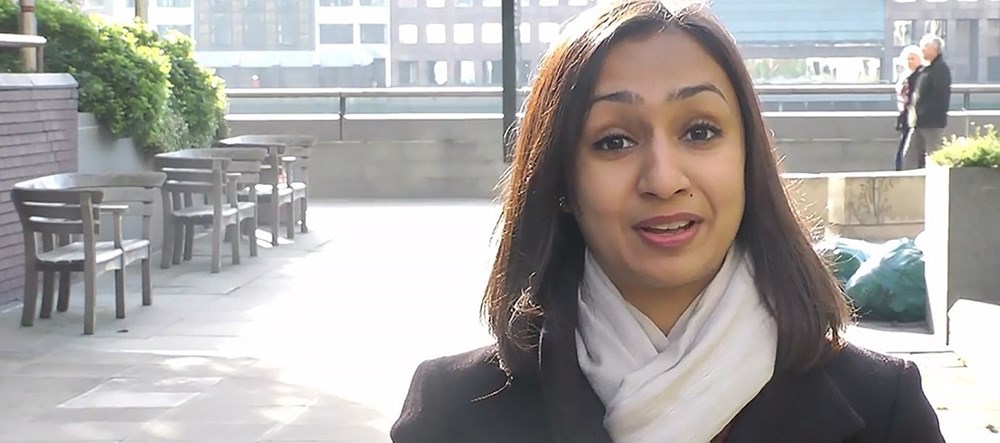 Name: Roma Agrawal
Job title: Associate Structural Engineer
Company: WSP
A-level studies: Maths, further maths, physics, design technology
Undergraduate degree: BA (Hons) Physics, Oxford University
Post-graduate degree: MSc DIC General Structural Engineering, Imperial College London
Other qualifications: Chartered Engineer, the Institution of Structural Engineers (IStructE)
Roma Agrawal is a structural engineer who worked on a dramatic tower that's changed London's skyline - the 306 metre tall Shard.
Read on to find out more about how Roma discovered engineering – a job she loves because it combines her interests in physics, maths and building things.
What does a structural engineer do?
My job as a structural engineer is to make sure that all the buildings and bridges around us are safe and comfortable to use. If you look around you at all the different structures that you see, they're all there because an engineer has designed them. Architects tell us what they want a building to look like then, it's up to us to make it work.
We work closely with architects, mechanical and electrical engineers and the contractor to ensure that a structure is elegant and safe to construct.
What made you want to be an engineer?
When I was young my dad used to sit down with me and my sister and we used to build with Lego, Meccano and other construction blocks and I really loved making things.
One summer during university I did a work placement with some mechanical engineers at the University of Oxford Department of Physics and they were designing particle accelerators at CERN (the European Organisation for Nuclear Research – this is where the Large Hadron Collider is based and where the World Wide Web was created - Ed) which was very exciting. The work that they were doing was really interesting and I decided that engineering gave me that great combination of maths, physics and building things, so that's how I became interested in engineering.
What did you study in order to become an engineer?
At A-level I studied maths, further maths, physics and design technology because I'm quite a practical person and I enjoy logical and technical things.
I studied an undergraduate degree in Physics at Oxford University. I didn't really know what I wanted to do when I grew up, so I decided to study the subject that I really enjoyed. Through research, I found out that a physics or maths degree was very flexible for any future career you might want. After that, I studied an MSc in Structural Engineering at Imperial College London.
It was a slightly unusual route but there are lots of different ways you can get into engineering. My company was very keen on the fact that I had a broad background. Since I joined I've found I look at problems in a slightly different way and it's just about bringing lots of different ideas to the table.
How important is it to study maths and physics if you want to be an engineer?
Studying maths and physics is really important in becoming an engineer, but you don't have to be a genius at those subjects. For example, we use maths to figure out how heavy things will be in the building - for example the number of people that will be in the there, the furniture, the concrete, the steel and so on.
We also use maths to work out how much wind load there will be on a building and how that will affect the structure so it doesn't move too much. It's important that maths and physics are subjects you love in order to do engineering.
The main point is if you're a good problem solver and good at maths then you can be an engineer.
What's your favourite part of the job?
My favourite thing about engineering is at the end of a project when I can go and stand in front of a bridge, building or something I've designed, look at it and say: "I did that". That is the most rewarding and satisfying feeling. We spend a long time designing things in the office on paper, so seeing it in real life, many times bigger than the drawings, is exciting.
On a day-to-day basis what I love about my job is that it's always different. We could be designing a range of structures, from high-rise towers to bridges, residential buildings or sculptures. We get to work with lots of creative and exciting people as part of the job.
What was it like to work on the Shard?
I spent about six years of my career working on the design of the Shard and that was a really exciting project to be involved in. It's something that's really redefined London's skyline and it was a really great opportunity for me.
I helped design the foundations of the building at the very base of the tower. This takes the whole load of the building and spreads its weight out into the ground.
I was also involved in the design of the spire which is at the top of the building and that's what you can see if you go up into the viewing gallery. That was also really interesting to be involved in. Constructing it and building it in the middle of central London was a challenge. There's a lot of wind at that height so we had to design it for a whole range of loads and forces.
It's been fantastic because I've seen it through all the different stages of the building, starting from conceptual design to detailed design, to being on site. 
What's it like to work on such a tall building?
When I started out I didn't have a head for heights - I remember the first time I went to site I had to walk up some scaffold stairs on the side of the building and was absolutely terrified. I've actually got more used to it since then!
Are the views good?
Going to the top of the Shard is amazing and the views of London are just fabulous.
Why should young people consider a career in engineering?
It's such a dynamic, fast-changing environment. We don't even know what problems engineers will be solving in ten or twenty years' time, so it's a very exciting field to be in and it's very important that we have great engineers to move our world forwards.
There are fewer women working in engineering than men. What would you say to girls who think they might be interested in a career in engineering?
It's true that there aren't many women in engineering but I think that can really work as a bit of an advantage to us. If you imagine that you're one of the very few women working on a project, people do remember you, whether that's in meetings or out on site.
It gives you a real opportunity to build relationships and shine and show everyone how wonderful you are as an engineer, so I see it as an opportunity for us to bring something new and fresh to the profession.
Do you have a favourite invention or piece of engineering you would like to go back in time to create?
My first thought was the wheel, because machines and transport all depend on it. But then I found out that the shoe was actually a very cool invention from about 8000 years ago. The idea of tying animal skin to your feet has not changed much seeing as we wear leather shoes now. I also read that civilisations that had shoes first were able to go out and conquer other ones because they could walk further.
What do you like to do outside of work?
I practice classical Indian dance, I started training when I was 6. I also read a lot, all kinds of books. I like going to museums, especially the Science Museum.
Useful links
Mentioned in the article:
WSP Group
The Institution of Structual Engineers
The Shard